Antivirus Center Removal Tutorial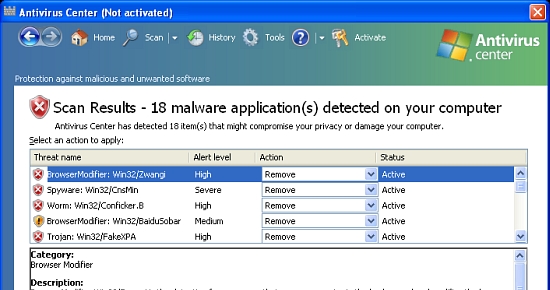 Antivirus Center is a newly released fake antivirus tool which has been created by hackers to get you to buy the rogue upgrade to the virus. The design of this virus is typical of most fake antivirus tools – whereby it will install itself onto your PC, and then try and show you a number of rogue settings & options to try and get you to purchase the rogue upgrade to the program. As you can probably tell, this is a complete scam and should not be trusted at all with your computer. Fortunately, it's very easy to remove if you know. This tutorial is going to show you what to do to stop the virus and remove it from your PC for good.
What Is Antivirus Center?
This is a new "malware" (malicious software) infection which has been created by hackers to steal your personal information. Designed to look as much like a legitimate tool as possible, the virus works by installing itself onto your PC from a number of different sources, and will then cause a huge number of problems with the likes of Windows & other important software.
The bad thing about this virus is the way it will continually block the likes of your Task Manager, settings & other features on Windows. This problem is a big issue because it's continually going to be preventing your PC from being able to access the important settings & files that it needs to run, leading your computer to run much slower and less reliably. If you want to resolve Antivirus Center infections, you have to be able to restart your PC into "Safe Mode" and then use a tool that's going to completely remove the infection from your PC.