CryInput.dll Error Fix For Crysis 2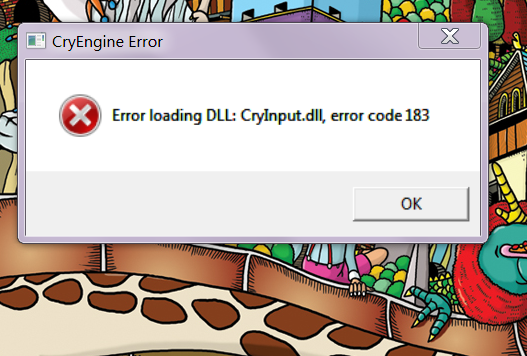 Crysis 2 cryinput.dll is used to help load up a number of important options inside the Crysis 2 application. It's basically used to control the likes of your keyboard inputs, mouse movements & even voice commands. Although it's one of the most important parts of the Crysis 2 game, it's continually causing a lot of problems, which typically include the error mentioned above:
Error Loading DLL: CryInput.dll, error code 183
In order to resolve this problem, we highly recommend being able to fix the various problems that this file may have, which can be done by using the steps outlined on our website.
What Is CryInput.dll & Why Does It Cause Errors?
CryInput.dll errors are caused by a number of common problems, but is mainly down to DirectX not being installed correctly on your system. This problem is typically caused by DirectX version 9 being installed (when 11 is the latest), to which Crysis 2 will either become damaged or unable to operate correctly. Other issues include Crysis 2 not being installed properly, as well as the cryinput.dll file being damaged or missing.
How To Fix CryInput.dll Errors Crysis 2
Step 1 –

Install DirectX With Crysis 2
The first step is to install DirectX from the Crysis folder. This updates the current version of DirectX that you'll have on your system, and will ensure that your PC is able to fix the various problems that it may have with this game. Here's how to update DirectX:
Find: C:\Program Files (x86)\Steam\steamapps\common\crysis 2\DirectX (Vista & Windows 7)
Or
C:\Program Files\Steam\Steamapps\common\crysis 2\DirectX (Win XP)
Run: dxsetup.exe
Once this is done, the demo / game should work fine!
Step 2 –

Re-Install Crysis 2
The first step is to re-install any programs that will be showing the cyinput.dll errors. It's often the case that games will be unable to process this file correctly, and thus show the errors you're experiencing. To fix this, you can follow these steps:
Click onto "Start"
Locate "Control Panel" & click it
Click onto "Add / Remove Programs" (Win XP) or "Uninstall A Program" (Win 7)
Click onto the game that's causing problems
Click "Remove"
Follow the Uninstall Process
Restart Your PC
Re-Install The Program
This will remove the problematic application from your system, and will make sure that your computer is able to properly process the files that it will need to run. We've found that this will work for about 80% of systems with the cryinput.dll error
Step 3 –

Manually Replace CryInput.dll
Manually replacing the cryinput.dll file is probably be the best way to repair the error.  You need to obtain a fresh copy of the dll file and register it onto your Windows system.  Follow these steps to resolve the error:
Save the cryinput.dll file onto your computer's hard drive
Browse to c:\Windows\System32
Locate the current cryinput.dll on your system
Rename the current cryinput.dll to cryinputBACKUP.dll
Copy & paste the new cryinput.dll into C:\Windows\System32
Click Start > Run (Or search "run" on Vista & Win7)
Type "cmd" in the box that appears
Type "regsvr32 cryinput.dll" on the black screen
Press Enter
Step 4 –

Clean Out Your PC With A Registry Cleaner
One of the big causes of cryinput.dll errors is through the "registry" database of your computer. This is a large database which stores vital information & settings for your PC, and is used continually to help Windows to read the files, settings & options that it needs to run. Although the registry is one of the most important parts of every Windows system, it's continually causing a large number of problems thanks to the way it will often become corrupted and unreadable. This is the cause behind many cryinput.dll errors, and needs to be resolved by using a reliable "registry cleaner" application.
This step is best completed by downloading RegAce System Suite, and letting it clean out any of the problems that your system may have inside.