How to Quickly Fix The Sims Save Game Error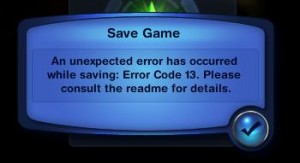 The Sims is one of the most popular video games out there with millions of players worldwide. Like every massively popular game, The Sims is prone to various errors that can occur out of nowhere. In this post we will help you fix The Sims save game error in a quick and easy way.
When Does the Save Game Error Appear?
The annoying save game error prevents the player from saving the game. So, it appears when you are trying to save the game and exit. Usually it appears in The Sims 3, The Sims, and The Sims Medieval.
Every save game error in The Sims is different and you can get a number of different error codes and error messages. Here are some of them:
Error Code 13 – an unexpected error

No save file information

Cannot save directory

File name is invalid

Failed to create header record
 

How to Fix The Sims Save Game Error
Luckily, it's not too difficult to fix the save game error when playing The Sims. There are several things you can do to prevent this from happening and the easiest thing to do is to use "Save As" instead of just hitting "Save". Do this every time on a different game file and not only will be get rid of the error, but you will also have a solid back up of your game.
However, if using "Save As" doesn't work and the error persists, you may need to do some additional tweaking.
Another way to fix The Sims save game error is to make sure you have the latest game patches installed. Patch 7 was issued specifically to fix this problem and Patch 8 dealt with the recovery prompt.
And last but not least, make sure that there are no registry errors related to The Sims on your system. Errors like "Failed to create header record" happen because of problems within the Windows registry, which means that The Sims save game errors won't be fixed until you repair the registry. We advise you to use our recommended registry cleaner to do that.
As you can see, you can easily fix The Sims save game error without having to reinstall the game.