How To Fix clr20r3 Error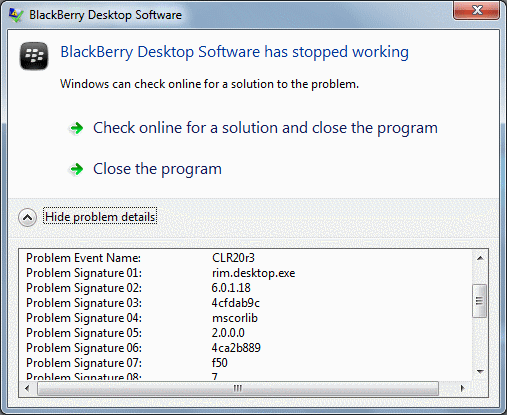 The clr20r3 error is caused by a problem with the way in which Windows will not be able to read the files & settings required to help particular applications load up. The error is mainly caused by the way in which Windows Media Edition will be unable to record TV stations, or when you are trying to sync your system with a Blackberry device.
What Causes The Clr20r3 Error?
This error is caused by the way in which your PC will not be able to access some of the registry files it requires to run a particular program or function. To fix this, you should look to repair any of the possible errors the application may have. The common causes of this error include:
Windows cannot read the registry files it needs to run
Your PC has errors & problems with its settings
Your system is unable to process the information required to perform the task you want
How To Fix The clr20r3 Error
Step 1 –

Re-Register The Windows Media Center Components
The first step is to re-register the components which could be damaged or corrupted with Windows Media Center, which can be done by following these instructions:
Click Start > All Programs > Accessories.
Right click "Command Prompt" and select "Run as Administrator" option.
Type the following commands one by one:
regsvr32 atl.dll
cd C:\WINDOWS\eHome
ehSched /unregServer
ehSched /service
ehRecvr /unregServer
ehRecvr /service
ehRec.exe /unregServer
ehRec.exe /regserver
ehmsas.exe /unregServer
ehmsas.exe /regserver
Exit command prompt
Try the function you wanted again
Step 2 –

Re-Install Windows Media Center
The next step is to re-install Windows Media Center. This can be done by first ensuring that you can click onto the following options & use them to ensure that your PC is able to read the files & settings that your computer can use to operate. This can be achieved by following these steps:
Click Start > Control Panel.
Click Programs.
Under "Programs and Features", click "Turn Windows Features On or Off" link.
The Windows Features dialog will appear on your screen. Expand "Media Features" category, and mark the box "Windows Media Center" checked up.
Click OK.
Follow the on screen instructions and restart the computer.
Again, open the Windows Features dialog box and mark "Windows Media Center" as checked from the "Media Features" category.
Click OK and wait till the task is completed.
Step 3 –

Clean Out The Registry Of Windows
The final step is to clean out the registry of your PC. This is where Windows keeps all the important files, settings & options that it needs to run on your computer, allowing your system to continually operate as smoothly as possible. We've found the registry is one of the biggest causes of problems for your system, and has to be fixed by using a reliable registry cleaner program to scan through your PC & fix the errors it will have.
Still having problems? Check out our new clr20r3 fix article here.