Windows Error 1621 Error Fix Tutorial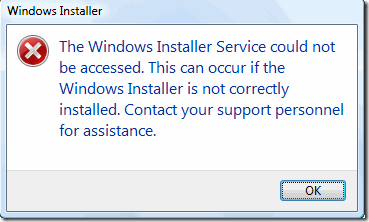 Windows Error 1621 is caused by the Windows Installer Service not operating correctly. This error is most likely caused by the way in which your system will either have errors or problems with its files, and will continually prevent your system from being able to access the files required to install a piece of software for your system. Fortunately, there is a way to stop this being an issue – which is going to be explained in this tutorial.
The error will appear in this format:
There was an error starting the Windows Installer service user interface. Contact your support personnel.
What Causes Windows Error 1621?
This error is a problem that's caused by the way in which your system will not be able to access the files or options which it requires to run the Windows Installer Service. This is a piece of software inside your computer which allows Windows to install various programs – allowing your system to access the files and options which it requires to run. The errors are going to be caused by these issues:
Your PC will have errors with its files and settings
Windows will be out of date
Windows will not have the correct services running properly
Your system will have registry errors
How To Remove Windows Error 1621
Step 1 –

Start The Windows Installer Service Manually
The first step to resolve this problem is to start the Windows Installer Service manually. This can be done by clicking onto these different options:
Press WINDOWS KEY & R to

load up "Run"

Type "msconfig" into the box and press Enter
When MSConfig loads, click onto "Services" on the top tabs
Order the left column alphabetically
Select "Windows Installer" service
Click "Start"
Try the installation again
Step 2 –

Use Windows Installer Cleanup Utility
The next step is to clean up the Windows Installer package on your PC. The way to do this is to first ensure that you can use the "Windows Installer Cleanup Utility", which is an official tool from Microsoft which has been designed to fix the problems that you're experiencing.
Run this program
Let it clean out any of the problems that Windows might have
Try the installation again
Restart your computer
Step 3 –

Clean Out The Registry Of Windows
The next step is to clean out the registry of your computer. This is a huge cause of errors for your PC, as it's continually being damaged & corrupted. The registry is a central directory of the Windows system, which acts like the "Yellow Pages" of your PC. It's where a large number of important information is kept for your system, and is continually being used to help ensure that your computer can run as smoothly as possible – allowing your system to run much smoother and more reliably. We've found that one of the biggest causes of problems for the Windows system is the registry database – meaning that in order to fix the problems you're facing, you should use a registry cleaner application – which is a tool which has been created to scan through your PC and repair the problems that Windows Installer may have.
We strongly recommend using a program called RegAce System Suite 2.0, which can be downloaded below. This tool has been created to fix the various problems that your PC will have – and will fix the errors you're experiencing: