How To Fix The Microsoft Office 1402 Error Code

Microsoft Office is a universally known suit of programs which are designed to help you complete your day-to-day work. Many companies and individuals use this package around the World, but it's often fraught with problems. One of the most common issues that faces Office users is the dreaded "1402 Error". This appear when you're trying to install Office and can prevent the installation from commencing. To fix this, there is a simple method you can follow…
What Causes The Office 1402 Error?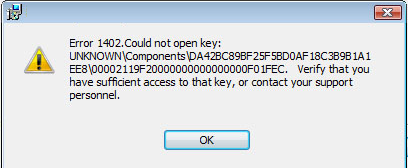 The 1402 error is a problem caused by the Office / program installation being unable to open and save a certain registry key on your PC. The error will typically read "Error 1402. Could not open key: key_name". The key_name refers to the actual registry key that the installation program cannot open, which has lead to the error message.
There are two typical causes of this error:
You are trying to install Microsoft Office (or another program) on an old machine (typically Windows 98)
You are trying to install the program on an account with insufficient privileges.
How To Fix The 1402 Error
There are several steps to fix the 1402 error. Here they are:
Step 1 –

Run a Registry Check (For Windows 98 & 2000)

Click Start, point to Programs, point to Accessories, point to System Tools, and then click System Information.
On the Tools menu, click Registry Checker. You may receive the following error message:

Windows encountered an error accessing the system registry. Windows will restart the computer and repair the system registry for you.

If you receive this error message, restart your computer.

If you do not receive the error message, you can choose to compact and repair damage to the internal data structure of the system registry by following these steps:

Close all programs that are running.
Click Start and point to Run. In the Open box, type the following and then click OK:

scanreg /fix

Click Yes to restart the computer.

Run Office Setup again.
Step 2 –
Retry The Installation With Different User Profiles
You may be unable to perform the installation if the user profile under which you are logged on to the system is corrupt or not the administrator. Therefore, you may try to log on to the system using another profile and then try to install Office again. If your existing profile is damaged, you may need to delete and recreate it to prevent any future problems.
Step 3 –
Clean The Registry With A 'Registry Cleaner'
Registry cleaners will go through the registry and fix any of the damaged or corrupted registry keys that could be causing the 1402 error. If the above methods do not work, or partially work, then you should try and use a registry cleaner tool to scan through the corrupted files and fix the ones that are causing problems.