How To Fix "Internal Error 2711" When Installing Office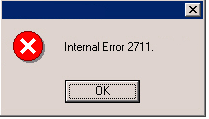 "Internal Error 2711" often occurs when you try and install Microsoft Office on your system. This error will show because some of the Office files are damaged or some registry values are corrupt. This will prevent you installing the application on your system, making it highly recommended that you're able to fix the causes of the error in order to allow the installation of Office to work on your PC.
What Causes The 2711 Error?
The 2711 error will appear like this:
Internal Error 2711: The specified Feature name name not found in Feature Table.
The error is caused by the installation files for Microsoft Office being corrupted, which prevents Windows from being able to process & install them. There could be multiple causes of this including the likes of the files being outdated; a virus had infected your PC and damaged Office's file or you could have accidentally damaged them yourself.
Another reason why this error appears is because of corrupt registry settings on your system. The registry is what holds data on everything on your computer, and is basically a big database of settings that your computer will use to help it "remember" a lot of important details for your PC. If the registry is corrupt, it can no longer function as it should and will not accept new entries in a designated place, leading the 2711 error to show. To fix this error, please follow the steps below:
How To Fix The 2711 Error
Step 1 – Download and Run The "Windows Installer Cleanup Utility"
You can resolve this issue by executing the Windows Installer Cleanup Utility. This application is designed to restore broken files within the install files of an application, such as Office. To do this:
Install the Utility
After installation, click Start > Programs > Windows Installer Cleanup
Select the program you wish to remove, and click "Remove".
Click OK, then you can exit.
You can now run the Microsoft Office installation again to reinstall Office and remove the 2711 error that was appearing. If this didn't work, please continue to the next step.
Step 2 – Clean Out The Registry With A Registry Cleaner
– Download this registry cleaner
A common cause of the 2711 error is the way in which the 'registry' is used by Office. The registry is a central database which stores all the files, information and settings that Windows requires to run, and is used for (literally) every part of your system – from helping your PC recall your desktop wallpaper to allowing it to save your Internet bookmarks each time. Unfortunately, the registry is also a big cause of problems for Windows, and is often the main reason why the Office Installer will not be able to install various files on your PC – as it will be unable to access the registry for whatever reason. To ensure this is not an issue, it's recommended that you use a registry cleaner program to fix the various errors that can be caused by the registry, such as the tool below: