How To Fix Windows Live Messenger 80040154 Error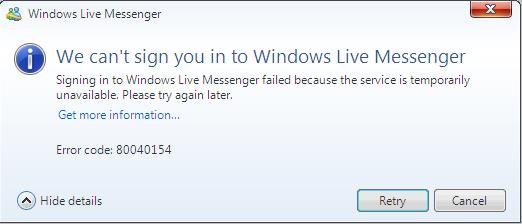 Windows Live Messenger 80040154 Error is a common problem that prevents you from logging in to Windows Live Messenger (WLM).  This error with code 80040154 typically appears when you attempt to login to WLM.  The problem shows up on your computer mainly because the MSXML library is corrupted or can't be located by Windows.  You need to resolve the issues surrounding the MSXML library and the Windows Live Messenger file to be able to use WLM.  This tutorial will help you fix WLM 80040154 errors on your PC easily.
What Causes The 80040154 Error
The error is typically caused by the way in which Windows is unable to process Windows Live Messenger files either because the MSXML library has become corrupted or is missing.  The problem can also be caused by problems inside the registry. You need to resolve issues with Windows Live files to fix the problem – which can be performed using the steps outlined below.
How To Fix Error 80040154
Step 1 –

Re-Register Windows Live Files
It may be that the files pertaining to Windows Live Messenger have been damaged or corrupted in some way. If so, then Windows will not be able to read them properly, hence, you are seeing errors show up. The problem can be resolved by re-registering Windows Live files onto your Windows system.  Re-registering the files onto your system will ensure that they can be processed by Windows properly and should prevent the error messages from appearing.  Here's how you can do this:
Open the Command Prompt window by clicking Start
Select Run
Type "cmd" in the open box and press "Enter"
In the black screen, type the following command and press "Enter":
regsvr32 %windir%/system32/msxml3.dll
Restart Your PC
Log Into Windows Live Messenger
This process should have resolved the problem.  However, if the error notification still appears on your screen, proceed to the next step.
Step 2 –

Clean Out The Registry Of Your System
Windows "registry" can be a big source of Windows Live Messenger 80040154 errors and other major PC errors that sends out error messages and slows down your computer.  The registry is a large central database that stores file and program settings which Windows constantly accesses to remember how to load the files and programs in the way you have configured them.  Despite being an important Windows module in the smooth operation of your system, it keeps on encountering errors and the longer you use your PC, the more registry errors will be present.  The errors come from the way in which Windows loads multiple registry keys at the same time and then saves them in the wrong way causing them to become corrupted.  To fix the WLM 80040154 error that appears on your screen, you should clean out the registry by using a reliable 'registry cleaner' to automatically scan and repair broken registry keys as oppose to manually changing registry values which can be potentially dangerous to your system.
We highly recommend that you download and install this tool to repair 99% of errors and correct faults in your system with a click of a button allowing you to have an error-free PC and a fast system again.