Total Security 2009 is another malicious antivirus tool which has been designed with the sole purpose of finding many "infections" on your PC and then prompting you to download and buy the software. It's a big scam which installs itself on your PC and then is extremely difficult to remove. Fortunately, there's actually a way to remove this malicious tool from your computer for good.

Total Security 2009 is one of the most common malicious antivirus programs that can infect your PC, and it's actually pretty simple to remove if you know how. Here's how to do it…
Step 1 – Stop The Following Processes:
tsc.exe
Sc2C21UvvM.exe
[RANDOM NUMBER].exe
These "processes" are the way the program runs in the background of your PC, and in order to stop them, you just need to press CRTL + ALT + DELETE to bring up the task manager. After that, you then just need to click on the processes tab and then find these various applications as you can see above. Like this below: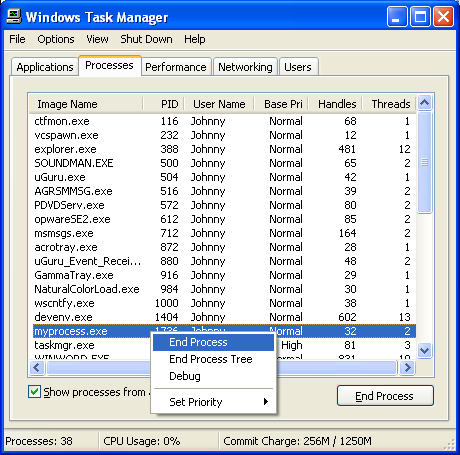 Step 2 – Delete The Following Directories:

c:\Program Files\TSC
c:\Documents and Settings\%UserProfile%\Start Menu\TSC
c:\Program Files\Common Files\System\Uninstall
c:\Documents and Settings\%UserProfile%\Application Data\[RANDOM NUMBER]
c:\Documents and Settings\%UserProfile%\Application Data\[RANDOM NUMBER]\pc[RANDOM NUMBER]ins
After you've stopped the application from running, you then need to head to the above directories, select them and then press "SHIFT + DELETE". This will permanently delete the files that the program needs to run, thus stopping it from loading ever again on your PC.
Step 3 – Clean Up The Registry

After you've removed the program files and processes for Total Security, you then need to go and clean out the registry keys that Total Security planted on your PC. This is done by downloading a registry cleaner and then letting it scan your system, removing any of the corrupt or damaged registry files that are in there. You can download a good registry cleaner here.