How to Restore Deleted Files the Easy Way
Oh no! You've just deleted a file you really need! What to do?
First of all, take a deep breath and don't panic. Undeleting your file is easier than you think – just follow these simple steps.
Is it Easy to Recover My Files?
Most of the time it is possible to recover deleted files and the whole procedure isn't at all difficult. However, a lot depends on how and when the files were deleted. Did you simply hit the "Delete" key? Did your computer crash? Did you format the drive?
If you deleted them the usual way, then getting the files back might be as easy as restoring them from the trash. But if the files were lost due to a system error, hardware failure or accidental formatting, then you'll need professional file recovery software like NTFS Undelete to restore them.
So, let's have a look at different data recovery scenarios and see how you can undelete your files quickly and successfully.
How to Ensure Successful File Recovery
The good news is that it's almost always possible to recover your deleted files, especially if you follow some best practices.
When a file is deleted, it's not really gone from your disk – instead of vanishing into thin air, it remains on your hard drive or removable media until it gets overwritten with other data. However, your operating system marks the space occupied by the file as free and removes the file's name from view, which means that you can't find it without the help of special software.
Before you begin trying to restore your files:
Go to the Recycle Bin and check if the deleted files are there. If they are, you can put them back in one simple click
Stop using the computer to minimize the possibility of your deleted files being overwritten
Do not install any file recovery software to the drive you're recovering from
Download NTFS Undelete to a USB thumb drive or any other removable media
How to Restore Deleted Files from the Recycle Bin
Let's start with the easiest way to restore your deleted files. Often, people hit the Delete key quicker than they think or simply by accident. And then they panic because they need the file they've just deleted. Luckily, your PC doesn't delete files beyond recovery – it puts them in the Recycle Bin first.
You can undelete files from the Bin by doing the following:
Double-click on the Recycle Bin icon to open it
Find the file you want to put back
Right-click on the file and click on "Restore"
The file will be restored to its original location
Restore Permanently Deleted Files with File Versions
If you Shift-deleted a file or emptied the Recycle Bin, undeleting your files may be a bit more tricky. However, some built-in (and free) Windows features are there to help. File versions is one of them. Here's how to use it:
Go to File Explorer and right-click on the folder that contained your deleted file(s) and/or folder(s) and select Restore previous versions
Select the version of the file you want to restore from the new window that appears (usually the most recent one)
Click on the Restore button
If the file exists in the original location, Windows will ask you if you want to overwrite it. It's best to save the restored file to a new location (like a USB thumb drive) to make sure no important information gets overwritten by mistake.
Alternatively, you can go to a folder and click on History button (Windows 10) and then repeat the steps to restore the file(s).
How to Recover Files with NTFS Undelete
If the above methods didn't work, you'll need to use professional file recovery software to retrieve your lost files. Let me show you how to do it – I'll use NTFS Undelete as an example.
Stop working on your computer and insert a USB thumb drive or an external hard drive
Go to https://www.ntfsundelete.com and download the app to your external media (not to your computer)
Open NTFS Undelete from the flash drive and run a scan
Browse through the list of recoverable files and select the files you want to recover
Click on "Recover File" to undelete your file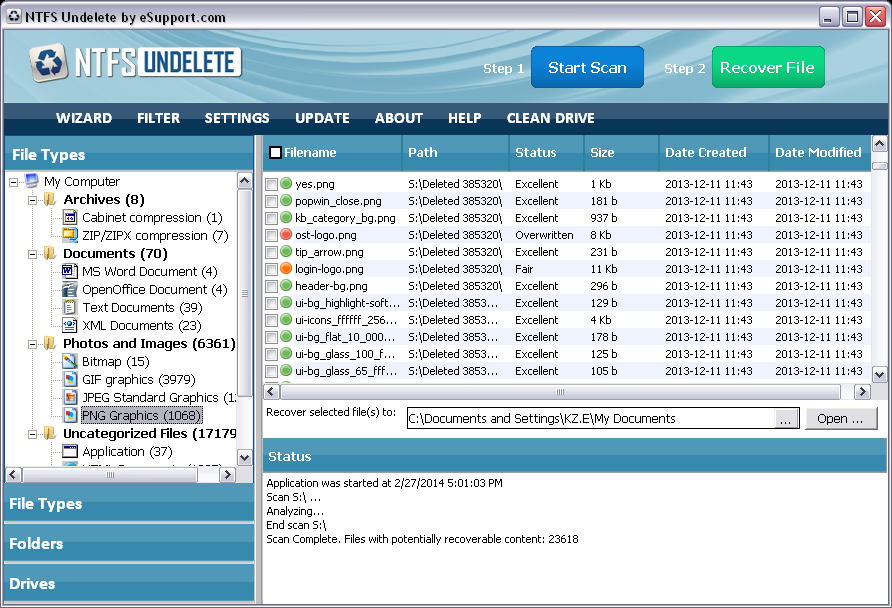 NTFS Undelete shows you which files can be recovered successfully (green circle next to the file name), partially (orange circle), and which can't be recover because they were overwritten (red circle).
If you see too many recoverable files and can't find the file you need, click on "Filter" in the menu and configure some filtering parameters: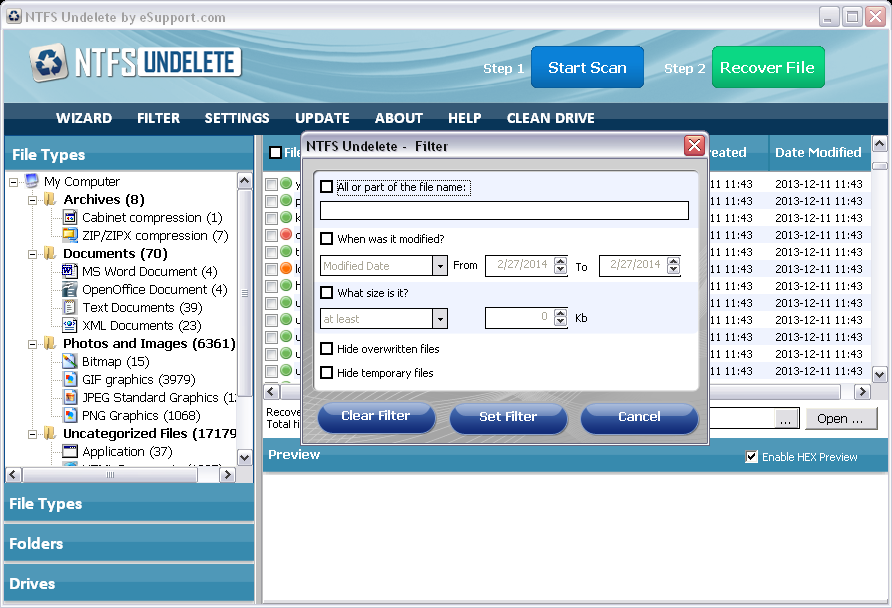 If you want to restore deleted photos, use the app's SmartScan feature: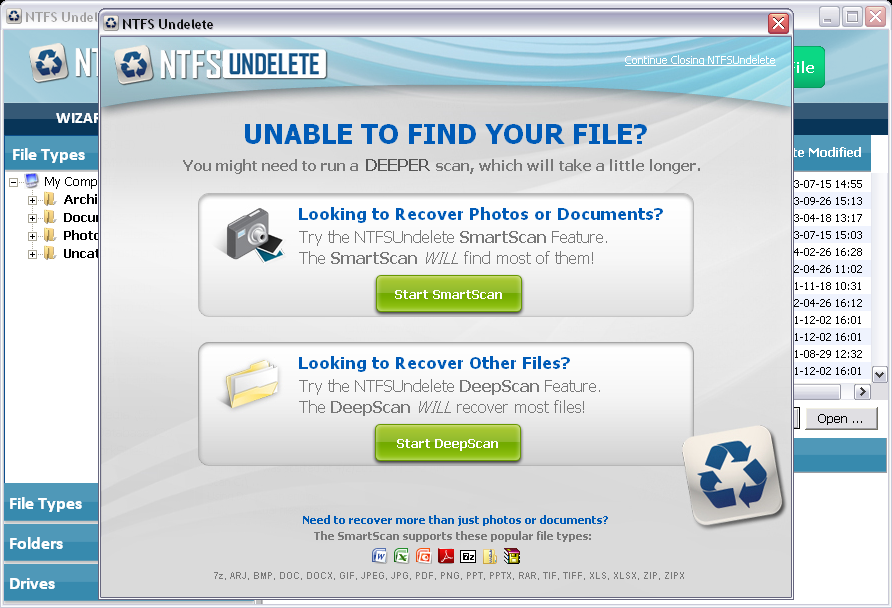 And if you're looking for hard to find documents, use the DeepScan to find deleted files even after formatting the drive.
We hope this article helped you to undelete lost files!