Runtime Error 52 Repair Tutorial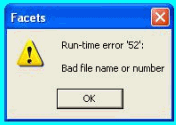 Runtime Error 52 shows up to alert you that your PC has a bad number or file somewhere in its system, and as a result, it cannot run the file it needs to complete the action you just asked it to do. This error is usually the result of a problem with an application on your system. You will generally see this error in Microsoft Word documents that were made using a different PC and whose macros have been enabled.  Normally, the error is caused by problems in Visual Basic's macro command settings.
What Causes Runtime Error 52?
This error is generally caused by a wrong macro command configuration in Visual Basic.  It can also be caused by a defective Microsoft Word application or registry problems. This error wil be typically displayed in your PC in the following format:
» "Runtime error 52: Bad File name or number."
This tutorial will teach you how you can fix this error.
How To Fix Runtime Error 52
Step 1 –

Remove Any "Macro" Settings From Your Document
One of the major reasons why this error occurs is because of a macro setting in your Microsoft Word document failing to process.  When this happens, you need to remove from your system the macro setting in question. It is best that you start with a fresh macro rather than work around an error in a document.  The steps below will show you how this can be easily accomplished.
First click on Start on your Windows Bar then select Tools
Afterwards click on Options followed by Security
Next, select Macro Security.
Open the Security Level option, choose Medium then confirm by clicking on OK.
Click on File then Exit to restart Word and reopen the document again.
Once Microsoft Word prompts up again, you will be asked to either enable or disable macros.  Choose the latter.
Proceed to Step 2 if this doesn't repair the error.
Step 2 –

Re-Install Any Programs Causing The Errors
Another reason why you will be experiencing this error on your computer is because of Windows inability to properly process some settings or files in a particular program/s.  If such is the case, you would need to uninstall the problematic application/s and install a fresh copy to your PC.  To do this, just follow the steps below:
Click on Start > Control Panel
Choose Add/Remove Programs (for Vista or Windows 7 users) or Programs and Features
Look for the problematic program/s from a list on your screen then select either "Uninstall" or "Remove."
If the application has an uninstall wizard, just follow the steps that it will display on your PC.
Refresh the settings of your system by restarting your PC.
Insert the CD/DVD installer on your CD/DVD drive to reinstall the program in your system.
Test the application if it runs.
If this doesn't solve the error, it is recommended that you clean out your registry.
Step 3 –

Clean Out The "Registry" Of Windows
One sector in your computer that is notorious for generating a number of system errors is the registry.  The registry plays a very important role in your system's operations as it is here where all processing information needed by your hardware and software run are kept. Without it, your computer would virtually stop working.  On the other hand, the registry also stores numerous redundant files from cookies, programs and settings.
To make matters worse, these data sets will not go away by themselves even if their parent applications have been uninstalled from your computer.  It is these files that cause your PC to generate errors as a result of your PC slowing down, due to the large number of data that it is forced to manage in your registry.  It is for this reason that you need to periodically clean your registry of useless files that only serve to suck out your PC's resources.  When cleaning out your registry, it is highly recommended that you use an automated registry cleaner, since doing it manually may inadvertently cause important files to be deleted from your system.