Windows Defender 100% Disk Usage Repair Tutorial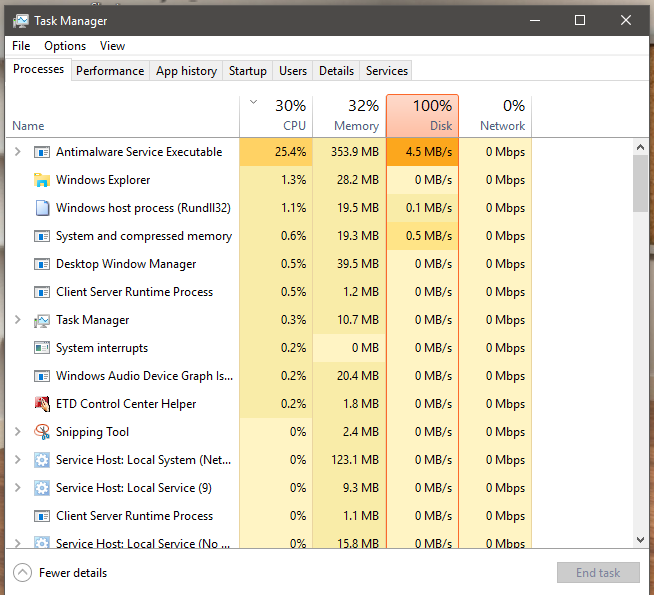 Has your computer become painfully slow? While a lot of things can be the underlying cause of a slow computer, the first thing you should do is check the Task Manager's Processes tab and see if a Windows Defender process has 100% disk usage.
Start typing Task Manager in the Windows search box and click on the app in the search results
Go to the Processes tab
Click on Disk usage to sort all processes by their disk usage
Check if Antimalware Service Executable uses 100% of disk
When a single process uses 100% of your disk, it leaves no room for other system processes to run properly, causing your computer to slow down to a crawl or even crash.
In this Windows Defender 100% disk usage repair tutorial, we're going to teach you how to find out what's causing the problem and fix it quickly.
Why Does Windows Defender Use 100% of Disk?
Most of the time, 100% disk usage caused by Windows Defender happens when Windows Defender tries to remove a threat but gets stuck in the process. This is especially true when Windows Defender detects a false positive and tries to remove it. The worst bit is that turning off Defender doesn't help and
How to Fix Windows Defender 100% Disk Usage
Fix 1: Download Another Antivirus
Because Windows Defender 100% disk usage usually happens because the app gets stuck when trying to delete a false positive, installing another antivirus will help. Windows Defender is designed in such a way that Windows disables it when you install another antimalware program. Any free lightweight antimalware app will do. Simply download the app of your choice, install it, reboot your PC and the 100% disk usage problem will be gone.
Fix 2: Change Windows Defender Privileges in the Task Scheduler
If you'd rather not install another antivirus, then you can try changing Defender privileges in the Task Scheduler. Here is how:
Go to the Control Panel and select All Control Panel Items
Now go to Administrative Tools and open the Task Scheduler
In the Task Scheduler Library, go to Microsoft – Windows and locate Windows Defender
Open all Windows Defender items and uncheck the Run with highest privileges checkbox in the bottom left of the popup window
Doing this will restrict Windows Defender using up all the disk resources.
Fix 3: Add the Folder with the False Positive to the Whitelist
Warning: only do this if you are sure you're dealing with a false positive and not an actual Trojan.
Another solution is to simply exclude the folder with the false positive from Windows Defender scans. Here is how:
Type Windows Security in the search box and click on it in the results
Go to Virus & Threat Protection, then go to Manage Settings and Add or Remove Exclusions
Click on Add an exclusion and select Folder
Browse to the folder you want to exclude and select it
By excluding a folder from Windows Defender scans, you'll prevent the Defender from trying to remove the false positive, getting stuck, and causing 100% disk usage.
We hope that this article helped you to fix Windows Defender 100% disk usage. If not, give our recommended optimization tool a try.