How to Fix Windows Error Code 0xa0000400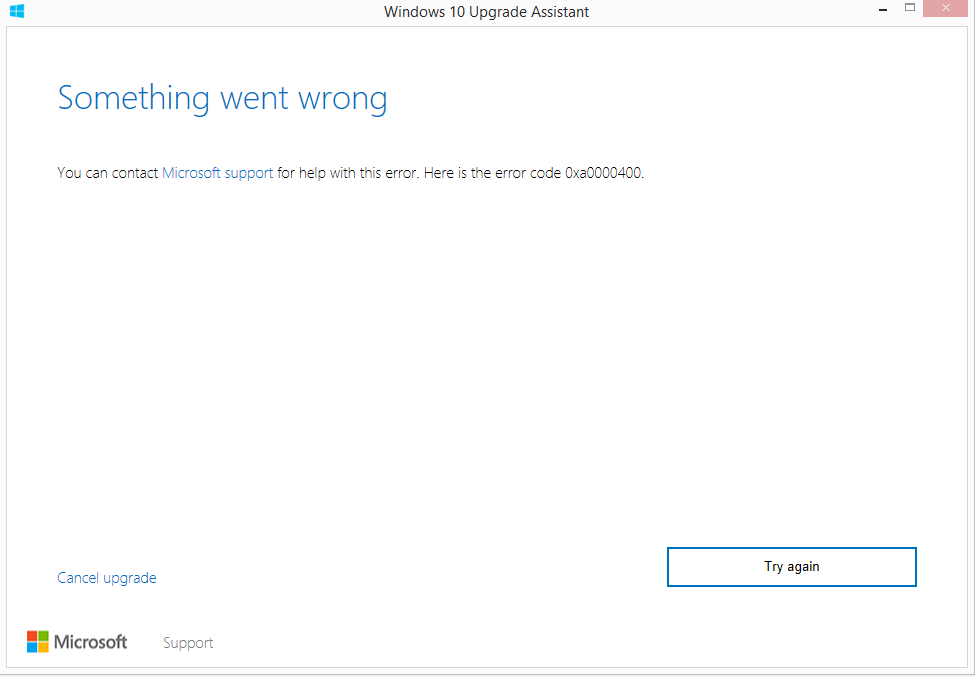 The Problem: you've been trying to upgrade to Windows 10 using the Windows 10 Upgrade Assistant but the upgrade gets interrupted by a Windows error. The error tells you that something went wrong and displays the error code 0xa0000400.
The main problem with Windows error code 0xa0000400 is that it's difficult to pinpoint the cause of this error. So fixing it is a bit like poking around to find what's wrong. The good news is that in 90% of cases you can repair error code 0xa0000400 by doing some simple computer cleanup and maintenance stuff using Windows built-in tools. In this article, we'll share with you some proven fixes.
Make Sure You're Using the Official Upgrade File
Before you begin trying to repair Windows upgrade error code 0xa0000400, you should make sure that you're using the official Windows 10 ISO (disk image) file. If you're trying to install a pirated version, then you really should ditch it and use the official download. It's for your own good because otherwise you may end up with a completely non-working computer, huge privacy and security issues, and who knows what else.
Run Windows Update Troubleshooter
The first thing you should try when you encounter any Windows error code, including 0xa0000400, is to run the Troubleshooter. This tool is invaluable and can repair a lot of Windows errors automatically. Here is how to do it:
Go to Settings and navigate to the Update and Security section
Select the Troubleshoot tab and choose to run the tool
Follow the Troubleshooter's prompts
Alternatively, you can go to the Control Panel, select the small icons view and select Troubleshooting. Then, select View All on the left-hand side and choose System Maintenance. Click Next and follow the prompts.
The Troubleshooter tool is available in Windows 8.1 and Windows 10.
Clean Up Junk Files
Sometimes traces of previous updates and other unneeded junk files are interfering with a new upgrade. If that's the cause of the 0xa0000400 error that you're trying to fix, then running the Disk Cleanup tool should help. Using the tool will help you to find and remove redundant temporary files that may be preventing you from upgrading automatically.
To run the Disk Cleanup tool, follow these steps:
Start typing Disk cleanup in Windows search and select the Disk Cleanup app from the results
When the tool opens, select the drive you want to clean up (the drive where Windows is installed, usually your C drive)
Under Files to delete, select what you want to remove and click OK
Once the initial cleanup is finished, click on the Clean up system files button (you need to be logged in as an administrator of the computer)
Select the files you want to get rid of – old Windows upgrade files, old system restore points, etc.
Click OK to run the cleanup
Once you're done, don't forget to reboot your computer and try running Windows upgrade again. Most likely, you won't encounter error code 0xa0000400 anymore.
Close Skype
This sounds like a very weird solution, yet many people reported that closing Skype during the update fixed Windows error code 0xa0000400. My guess is that a Skype process somehow interferes with the upgrade. So, exit Skype and then go to the Task Manager (type it in the Windows search box and select the Task Manager app). Then go to the Processes tab, browse through running processes and stop all Skype-related processes. You can do that by right-clicking on a process and selecting Stop. Once that's done, run the upgrade again.
Go Offline
Sometimes going offline also helps to run the upgrade without the dreaded error code 0xa0000400. Before you turn off your Internet connection, make sure the update you're trying to install is fully downloaded. To do that:
Right-click on Start and select Settings
Navigate to Update & Security
Click on Check for Updates and then Learn more
The system will offer you to download the update you need to install
Once downloaded, locate a folder called Windows10Upgrade28084, open it and make sure that it has files in it
Now you can disable your Internet connection and proceed with the upgrade
We hope that one of these tips helped you to get rid of Windows upgrade error code 0xa0000400 and install the update. If not, you should definitely give our recommended Windows repair tool a try!