ZoogVPN Review: Why You Should Install This VPN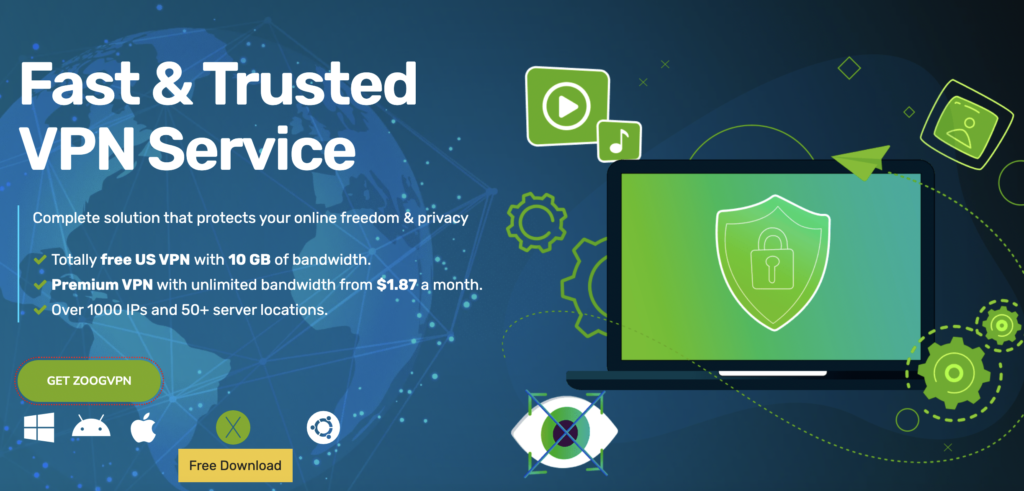 Are you looking for a fast, secure, and extremely affordable premium VPN provider? Then you should definitely try ZoogVPN. This VPN is not as well-known as its highly advertised competitors, but it can outrank them in a number of ways, especially when security is at stake.
Read our ZoogVPN review and take advantage of the special deal available to our readers:
---
About ZoogVPN
ZoogVPN is a company situated in Greece that has been providing high-speed, incredibly secure, and private VPN services since 2013. It further asserts that it is one of the suppliers equipped to offer Netflix access.
ZoogVPN is not widely recognized at the present, but it is gradually spreading awareness of the benefits it provides; as a result, it was named one of the four top VPNs with a monthly fee of less than $2 per month. It is simple to download and install, and it is accessible in a variety of languages.
If you want to know what its users think, whether its entire package is sufficient or if it has a free plan, and whether it is truly able to protect its IP and other essential information, we urge you to keep reading and learn more about ZoogVPN.
Why You Should Choose ZoogVPN
Zoog VPN is an excellent choice for users who need to get the basic perks of a VPN as quickly as possible, such as changing their IP address and encrypting browsing data. This provider has servers configured to handle P2P, which is ideal for torrenting, and it also works with OpenVPN, one of the most secure VPN protocols.
ZoogVPN is a great option for several reasons. For starters, it has exceptionally inexpensive rates. This is reflected in its efficiency, as it assures to prevent IP and DNS leaks, provides access to restricted pages, and allows you to browse public sites with confidence.
Although there are some flaws that could be addressed, downloading and installing this program is very simple. It is not surprising that many reviews claim ZoogVPN is among the strongest options at amazing prices; you can test it out for free thanks to its free plan.
ZoogVPN Benefits and Features
As we've already mentioned, low price and excellent security are the two main benefits of this VPN provider. And now let's take a look at what it has to offer in detail.
1. Ease of Use
ZoogVPN is very easy to install and configure. It's available in several languages, too, which makes it perfect for international users.
2. Available Devices
ZoogVPN is available for pretty much any device you might own. It supports Windows, Mac, Android, iOS, Android TV, Blackberry, Linux and can even protect your router.
3. Locations
ZoogVPN can be accessed from practically anywhere around the globe since its servers are deliberately spread out so that your users can connect to the closest server. This makes it perfect for using to access restricted websites.
4. ZoogVPN Plans
Zoog VPN is handled through subscription plans with no sort of contract made, as it respects the user's maximum privacy. The plans are for durations of 1 month, 6 months, and 1 year.
In the event that you are dissatisfied with the service, we suggest that you first review the ZooVPN terms and conditions, as well as their privacy rules, because obtaining a refund within 7 days is subject to a number of very complex criteria.
You may also download and install ZoogVPN to test your subscription before paying. However, according to user feedback, the plans and the VPN itself are great so there's no need to worry.
5. Security
Zoog VPN uses what they refer to as military encryption; its AES-256 grade encryption is one of the finest in the business and ensures your protection; however, it is only available with full payment plans.
The free plan employs 128-bit encryption, which is strong but not among the best. Nevertheless, it is capable of managing the majority of potential hazards.
Furthermore, Zoog VPN guarantees that no records are retained; yet, when we evaluated their privacy policy, we discovered that at least limited information is stored, including email and data sent when using their services.
6. Support
ZoogVPN offers 24/7 support and their team is very fast at replying to customers. In addition to the standard ticket system, ZoogVPN offers live chat support, which is a life-saver and works very well.
How Fast Is ZoogVPN?
We were able to determine that the transfer rate is pretty standard after evaluating the tests performed on certain servers in the USA and Europe. Although it is rarely above average, it is very good.
When we compared the initial speed to the speed after the client is connected, we notice a minor dip, making this VPN pretty acceptable at this time. It is also worth noting that speed can be impacted by your geolocation, so be careful when choosing which server to connect to. You can choose from 40 servers in 25 countries.
Conclusion
This company is a fantastic choice for individuals who want the full package at a reasonable price, as was evident from both the analysis of ZoogVPN and the opinions of countless users, among other sources.