Explorer.exe System Call Failed Error: Working Fixes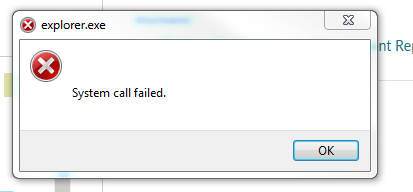 Explorer.exe is one of the main processes in any version of Windows. If explorer.exe fails to load, you'll end up with an empty screen, no start button, no taskbar – nothing but your desktop background picture. Without explorer.exe you won't be able to access your files or folders. That's why it's so annoying when you experience a Windows Explorer error that makes everything disappear. The explorer.exe system call failed error is particularly annoying but luckily it's usually easy to fix.
Why Am I Getting Explorer.exe System Call Failed Error?
This error usually appears when the explorer.exe file becomes corrupted or if another process interferes with it for some reason. To fix the problem, you'll need to determine why exactly the explorer.exe experiences a system call error.
How to Fix Explorer.exe System Call Failed Problem
Like I've mentioned above, the exact fix depends on what is causing the problem. Here is what you should try to get rid of the error.
Fix 1: Restart Your PC
Just like with a lot of errors, the first thing you should do when you get the explorer.exe system call failed problem is restart your PC. Chances are that this was a temporary glitch and that rebooting will put things back to normal.
Fix 2: Restart the Explorer.exe Process
Another thing you should try is restarting the explorer.exe process. You can do it from the Task Manager (press Ctrl+Shift+Esc to open it). Then expand the Task Manager view to show all processes, find Windows Explorer, right-click on it and select "Restart".
Fix 3: Run an Anti-Malware Scan
Malware can often be the cause of PC problems, explorer.exe system call failed error included. Scan your computer with reliable anti-malware software of your choice to see if there are any infected files that are affecting your privacy, security and computer performance.
Fix 4: Run System File Checker
Open the elevated Command Prompt by right-clicking in the bottom left corner and selecting Command Prompt (Admin). Not paste the following in the Command Prompt and press Enter:
sfc /SCANFILE=c:\windows\explorer.exe

If you have a 64-bit computer, paste the following too, and don't forget to hit Enter again:
sfc /SCANFILE=C:\Windows\SysWow64\explorer.exe
These commands will check the explorer.exe file for any problems and attempt to fix them automatically.
Fix 5: Use Our Recommended Repair Tool
You may be getting problems with the explorer.exe process because it became corrupted or other corrupted internal Windows files are interfering with it. Our recommended Windows repair tool will let you scan your PC for hidden errors and fix them automatically. Just download, install and run it – the tool will do the rest.
We hope that these fixes will help you to repair the explorer.exe system call failed error and you'r computer will be as good as new.