How to Delete Duplicates from the Photos App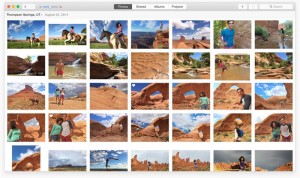 If you've upgraded your Mac OS X and tried the new Photos app, you must've appreciated all the cool new features it has. Photos is a pretty cool upgrade to iPhoto, but there's one thing that the app can't do – it can't identify duplicate or similar photos that are already there. Luckily, there is a way to delete duplicate images from Photos without any hassle. To do that, you'll need to download an app called Duplicate Photo Cleaner and follow these steps:
Open Duplicate Photo Cleaner and select Photos Scan from the Scan Mode drop-down menu
Scan your Photos library for duplicates and similar images
Review the results and let Duplicate Photo Cleaner process your choices
Because Photos is different from iPhoto, no app can delete duplicates without you opening Photos and deleting duplicate photos there. However, Duplicate Photo Cleaner makes this task really easy because it creates an album called DPC Trash and puts all the duplicates there. All you need to do is delete all files from that album and your Photos library will be duplicate-free.