How To Fix Error 1638 on Skype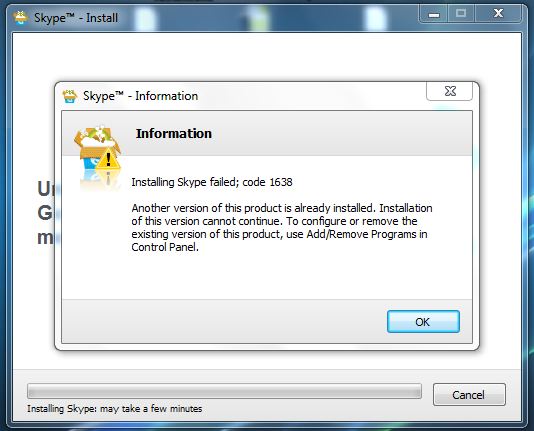 Skype is a reknowned, and widely used, software that enables communication via means of voice or video. Having such a wide consumer base will inevitably raise issues with each user running a unique cocktail of hardware and software. One of the errors that this produces is the 1638 error whilst installing the Skype software. This error may be uncommon but can be a nuisance for anyone experiencing it as it prevents installation of the software.
What Causes Error 1638 on Skype?
Error 1638 may, or may not, appear in conjuction with error 1603 during the installation. The issues causing this error to surface include:
Corrupt installation of Skype
Windows being out of date
Corrupt Registry
To fix these errors, please read on.
How To Fix Error 1638
Step 1 –

Re-install Skype
Your version of Skype may not have installed correctly, and therefore some components cannot be run as they should producing the 1638 error. To reinstall Skype, which should fix this particular issue, follow these steps:
Go to Start > Control Panel > Add/Remove Programs
Wait until the list populates, then look for "Skype" (It may be listed under the manufacturer Microsoft)
Click on the entry that is Skype and click Uninstall
Wait until the wizard appears and follow the steps
Restart your PC
Attempt to install Skype again
This should fix the 1638 error arising due to corrupt files, however if this did not work then try step 2.
Step 2 –

Update Windows
Microsoft designed Windows to be continually updated so it is compatible with all the latest software and hardware. If your Windows is out of date for whatever reason, such as with automatic updates being turned off, it is imperative you download the latest updates which may not only solve the 1638 issue, but also others.
Click Start > All Programs > Windows Update
On the left hand side bar, click "Search for Latest Updates"
Review and download any updates that appear
This will install the latest drivers for Windows to ensure compatibility with the latest software, including Skype.
Step 3 –

Clean Out The Registry
The registry is one of the most important parts of the Windows system, as it stores all the settings that your PC needs to run. Unfortunately, the registry is also one of the biggest causes of problems for your system, and is often what causes the 1638 error. The problem is that many registry settings become corrupt & damaged over time, leading your PC to become unable to read the files it requires when it's running. This is a huge problem which makes your system run extremely slowly and unreliably. To fix it, you should use a registry cleaner, of which our recommended tool can be downloaded below: