How To Fix The Windows Blue Screen Error "0x00000024"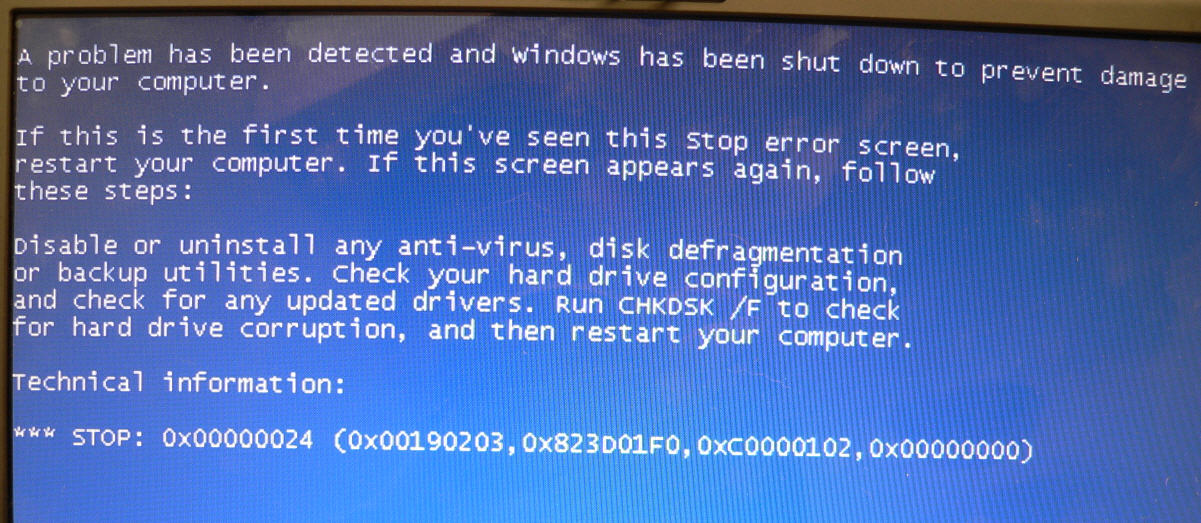 The 0x00000024 error is a blue screen error that occurs in Windows operating systems, most especially Windows XP.  This error would typically manifest in your PC as you start your Windows OS, and is indicative of unresolved issues in your computer's Ntfs.sys file.
What Causes The 0x00000024 Error?
You would normally see this error message in your computer when you have problems in your system's Ntfs.sys file. This file is of crucial importance to your PC since it enables your system to correctly read and write drives that utilize the NTFS file system.  This error could also be caused by Window's inability to properly process a hard drive file or the applications that depend on it.
This error would be typically shown in your screen in this format:
"NTFS_FILE_SYSTEM"

"Stop 0x00000024"
How To Fix The 0x00000024 Error On Your PC
Step 1

– Use CHKDSK
Hard drive issues are the most probable causes of disruptions such as the 0x00000024 error in your computer, and so its integrity needs to be checked when you encounter such problems of this kind in your PC.  When checking and repairing errors in your hard drive, you can use the CHKDSK command. Below is an easy to follow guide on how to use CHKDSK:
Step one when rectifying errors in your computer's drives is to click on Start on the Windows Bar then choose Run.
Next type "cmd" on the blank field that will appear on your screen, then choose OK.
Afterwards type "chkdsk drive:/f" on the following blank field.
Finally press Enter to confirm.
This will initiate the CHKDSK program which will then check that your hard drive is in good working order.
Step 2 –

Update Any Corrupted Drivers
Another thing you should look into when confronted with the 0x00000024 error is for any possible damage or corruption to the drivers in your system.   In the event that your PC suffers from this kind of problem, you need to perform certain measures or use special tools that will restore normalcy in your PC's drivers.  Below is a step by step guide on how to update corrupted drivers in your PC.
Click on the My Computer icon
Look for the hard disk drive that you want to check for errors then right click your mouse.
Choose the Properties option, then Tools.
Next select the Check Now button that you can find in the Error-checking section.
Choose "Automatically fix file system errors check boxes" or/and "Scan for and attempt recovery of bad sectors" in the Check disk options box.
Click on the Start tab to begin the process.
Step 3 –

Clean Out The Registry Of Windows
One constant source of errors in your computer is the registry, which is an area in your PC that is known to suffer from a lot of structural weaknesses and defects. Most people are unaware of the registry and the highly important functions in your PC it is responsible for, such as providing key processing information to Windows whenever you ask it to load applications or programs. Since the registry can break down frequently, errors such as the 0x00000024 error are almost inevitable if you do not keep it maintained.  When you have problems in this area of your computer, you need to use a registry cleaner, which is a tool that is specially created to repair errors in registries.