How To Repair Windows 0x8000FFFF Error Instantly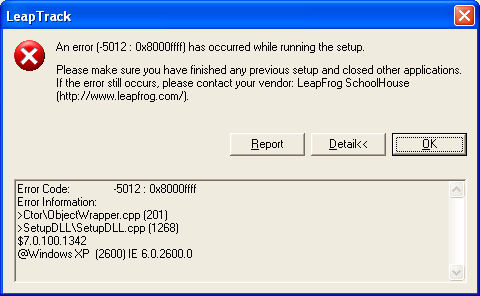 Windows 0x8000FFFF Error is a common, widespread error that typically occurs whenever you attempt to download updates through Microsoft Update or Windows Update while using a Windows Vista-based PC.  It's also possible to get this error message on occasions when you try to launch Windows Update via your computer's Control Panel. The Windows 0x8000FFFF error is normally caused by Window's failure to correctly load or run the driver or settings used in Windows Update. This tutorial will teach you the various approaches for resolving this type of Windows error.
What Causes The 0x8000FFFF Error?
It has been determined that the Windows 0x8000FFFF Error is often the result of Windows' inability to properly process the settings in Windows Update.  Many computers that experience this error usually have a RAM capacity that is in excess of 4GB.  This error can also be caused by corrupted files or entries in the registry, and damaged software distribution folders.  Viruses, Trojans, and malware infections, all highly destructive infiltrations, can also infect files in some sectors of your PC that would prompt your system to generate errors such as the 0x8000FFFF Error.  Computers or PCs that are not equipped with antivirus programs are particularly vulnerable to these types of threats.
You may also see this error in your system if any of the following values are present in the registry of Windows:
HKEY_LOCAL_MACHINE\COMPONENTS\AdvancedInstallersNeedResolving

HKEY_LOCAL_MACHINE\COMPONENTS\NextQueueEntryIndex

HKEY_LOCAL_MACHINE\COMPONENTS\PendingXmlIdentifier
How To Fix The 0x8000FFFF Error On Your PC
Step 1 –

Restart Your Computer
Many times, you can resolve this error simply, by just restarting your computer.  When you restart your PC, you are enabling the completion of all previous installations and are also ensuring that there are no processes left in your system that need restarting before they can be finished.  To restart your computer, just follow the steps below.
When restarting your PC, you first need to close or exit all open and running applications in your PC.
Once you have accomplished the above step, click on the Start button on the Windows Bar then select Restart.
Lastly, once the computer reboots, install all updates in your system.
Step 2 –

Clean Out The Registry Of Your PC
The registry is a lesser known sector in your computer that surprisingly generates a number of computing problems like the troublesome 0x8000FFFF Error.  It is important that your registry remains error-free, since it can directly affect many system processes in your computer.
Doing so however, is a tall order without the use of specialist software, considering the fact that it is known to suffer from a number of design defects and weaknesses. The registry performs a very crucial role in your PC as it is where it locates all the settings and files that Windows uses to run the various programs on your computer.  Windows must obtain this processing information whenever it tries to load one of your applications. If you have errors in your registry, you need to install and run a registry cleaner, which is an application specially designed to scan and rectify issues in this part of your PC.