How to Fix Windows 10 Update Error Code 0x8007042B – 0x4000D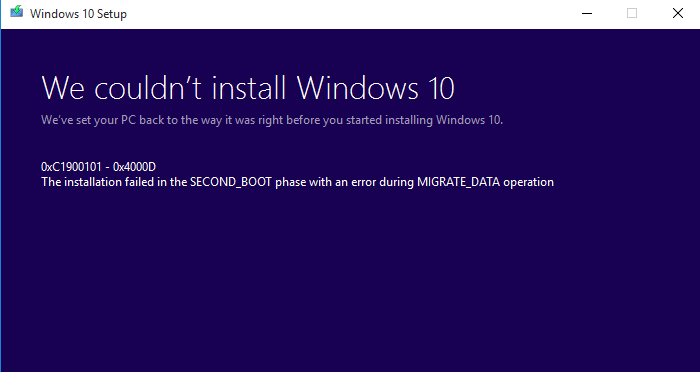 Windows 10 Anniversary Update errors are perhaps the most annoying ones. They appear exactly when you need everything to go smoothly and work perfectly. Error code 0x8007042B – 0x4000D belongs to a particularly nasty Windows 10 update errors. In this article, we'll see why it appears and offer you some DIY fixes that helped lots of other users.
Why Am I Getting the 0x8007042B – 0x4000D Error Code?
This error code is extremely common to the Windows Anniversary Update but users have reported getting it during other Windows 10 updates and upgrades. This error happens when the upgrade process can't migrate data to the new operating system (that's why the error message says that it failed SECOND_BOOT during the MIGRATE_DATA operation). After that, your computer reverts to its previous state and rolls back all changes. Basically, it leaves you where you've started and that's not too bad because at least it keeps working!
The bad bit is that it's not yet clear why the data migration process fails. It could even be a bug that Microsoft should fix but then again, this error doesn't happen to every user trying to update or upgrade their Windows 10.
How to Fix Windows 10 Update Error 0x8007042B – 0x4000D
Because it's still not clear what exactly causes this error code to appear, there isn't a definite one-size-fits-all fix. However, there are several things you can do to hopefully get rid of this annoying error.
Fix 1: Run Windows Troubleshooter
The first step to fix Windows update code 0x8007042B – 0x4000D is to run the built-in Windows Troubleshooter. This is an invaluable tool that can help you fix all sorts of errors automatically. Here is how to do it:
Go to Settings and navigate to the Update and Security section
Select the Troubleshoot tab and choose to run the tool
Follow the Troubleshooter's prompts
Alternatively, you can go to the Control Panel, select the small icons view and select Troubleshooting. Then, select View All on the left-hand side and choose System Maintenance. Click Next and follow the prompts.
The Troubleshooter tool is available in Windows 8.1 and Windows 10.
Fix 2: Restart the Windows Update service
Another way to deal with the update error code 0x8007042B – 0x4000D problem is to restart the Windows Update service and all the processes related to it. The easiest way to do that is via the Command Prompt:
Press the Windows key + X to open the Command Prompt (Admin).
Type the following commands and hit Enter after each:

net stop wuauserv
net stop cryptSvc
net stop bits
net stop msiserver
When that's done, type in the following commands and hit Enter after every line:

ren C:\Windows\SoftwareDistribution SoftwareDistribution.old
ren C:\Windows\System32\catroot2 Catroot2.old
Now type the strings from step 2 (don't forget to press Enter after each command): 

net start wuauserv
net start cryptSvc
net start bits
net start msiserver
Close the Command Prompt and reboot your PC.
Fix 3: Disable Your Antivirus Software
If the above two fixes didn't help, try disabling your antivirus software. If you're using a third-party app instead of Windows defender, chances are that it's conflicting with the update, which results in the dreaded error code.
Fix 4: Repair Hidden Windows Errors
Another way to deal with error code 0x8007042B – 0x4000D is to repair all hidden Windows errors and corrupted system files. The easiest and safest way to do that is to use a system optimizer. Check out our recommended tool, download and install it, run a scan, and let it fix everything it finds. It's as easy as that!
We hope that our post helped you fix the Windows 10 Anniversary Update error and your PC is running as good as new.