How To Remove The 2ndSrch.dll Virus From Your PC
The 2ndsrch.dll file is a file that is used by the '2nd Thought' virus. This file is used primarily to corrupt & damage the various files & settings your web browser requires to run, and is a main component of this virus. Unfortunately, many people see errors claiming that the 2ndsrch.dll file is missing or unreadable, making it essential that you're able to repair any problems this error may have caused. Here's what you should do…
What Causes The 2ndsrch.dll Error?
This is the error message you may receive:
"2ndsrch.dll Not Found"
This virus is powerful & potent because it tricks you into thinking you need the file to continue using your system, when in actual fact you will be downloading a virus, which will seriously cripple your system. You may also receive an error message which looks like this:
" The file 2ndsrch.dll is missing"
The typical cause of this error is that the 2nd Thought Virus has been removed from your PC, but your computer still has instructions to load it up when your computer loads. Fixing this error is actually very easy:
How To Fix 2ndsrch.dll Errors
Step 1 – Remove 2ndSrch.dll From Your PC
In order to prevent the fore-mentioned error message from appearing again, you should look to remove it from your computer. You can do that by following the steps below:
Go to Start > Search > All Files or Folders.
In the "All or part of the the file name" section, type in "2ndsrch.dll" file name(s).
To get better results, select "Look in: Local Hard Drives" or "Look in: My Computer" and then click "Search" button.
When Windows finishes your search, hover over the "In Folder" of "2ndsrch.dll", highlight the file and copy/paste the path into the address bar. Save the file's path on your clipboard because you'll need the file path to delete 2ndsrch.dll in the following manual removal steps.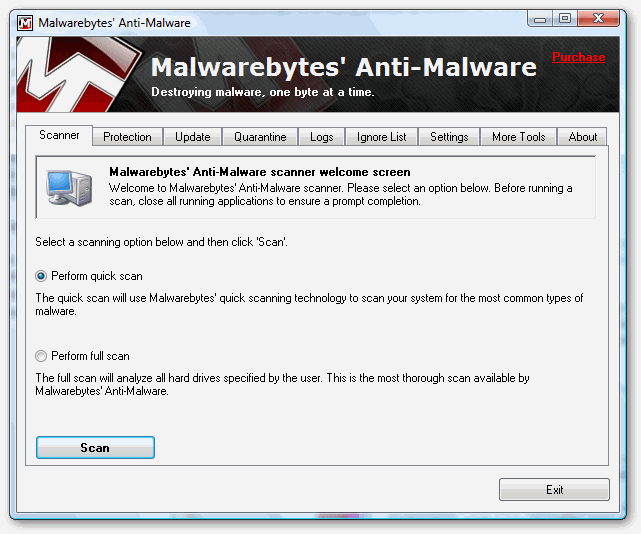 Malware Bytes is a free spyware & malware removal tool which you can download here.  You can install it and then let it remove the 2nd Thought virus from your PC. This will completely remove the infection that is causing the 2ndsrch.dll error, allowing your computer to run smoothly.
Using this tool is very simple. You need to select the type of scan you want to perform and then press "Scan" to get the tool to do the task. This will send Malware Bytes through your system and it will identify all the infected files, removing them for you. This automated tool is the best way to remove the infection because it gets 95% of it.
Step 3 – Clean Out The Registry
MalwareBytes is very effective at removing the actual infection from your PC, it does not finish the job properly… and ends up leaving a series of settings on your PC. These are kept in the 'registry' database and can actually allow the infection back onto your PC. In order to fully protect yourself, it is recommended that you download a registry cleaner and then use it to remove any of the infected '2ndSrch.dll' registry keys that can still cause problems. This tool is automated and is very easy to use.