How To Repair Error 1704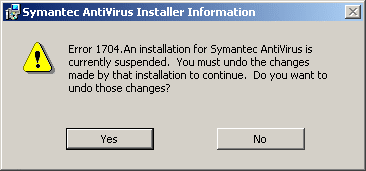 The Error 1704 is usually experienced by users who are in the process of installing a Microsoft Office 2000 product. It will appear each time an installation attempt is made unsuccessfully. If you choose to pursue installing it, set up will simply run its course but the moment you restart, the error appears again. This error prevents the installation of an updated Microsoft Office version because the existing one has been incorrectly installed. Read below to learn more about what causes the error and how to repair it.
What Causes Error 1704?
The error 1704's primary cause is an overriding of a new software over an older one that was probably installed incorrectly. The error will appear inside the message box like this:
"Error 1704. An installation for <Office product> is currently suspended."
If prompted, you can exit set up or continue with it; either way, the error will keep appearing. It will persist when you restart and each time you try to run set up again. The error message will repeatedly ask you if you want to "undo the changes" and you can opt to choose YES or NO. Whichever answer you chose, there is a proper fix provided below. Simply follow the tutorial:
How To Fix Error 1704
Step 1 –

Restart Your PC & Try Installing Again
If you clicked "NO" to undoing the changes, then you will have to restart you computer. Then you can attempt the installation again, but this time, use the second CD provided by Microsoft Office installer.
However, if you clicked "YES" to undoing the changes, then proceed to step 2.
Step 2 –

Exit Setup & Perform "Repair" Installation Of Office
Microsoft prepared a feature that will provide a fix for installation issues of Office. You have to access the "Repair Office" to resolve the error. Do this by doing the following:
Let the Office setup finish and when a reboot is prompted, click YES
Exit Maintenance Mode if it is still running after Windows Startup
Click CANCEL for the Maintenance Mode box
Click "YES" if you are prompted to exit Setup or click "OK" if prompted that Setup is cancelled
Leave the current Setup to finish the process
Repair the installation by going to START menu > Control Panel
Click Add/Remove Programs > Repair Office
Select the option for "Repair Errors in my Office Installation" and press "Finish" afterwards.
Reminder: you need to reboot the computer every time you run Setup so it can completely finish the installation process in your computer.
Step 3 –

Clean Out The "Registry" Of Windows
The registry usually contains the faulty pieces of settings, data or files that make errors occur. To fix the existing issue in the database involves modifying parts of it, and this is a delicate task that requires an appropriate tool: RegAce System Suite. It fixes up to 99% registry issues and is the recommended tool by experts.