How To Repair Runtime Error 0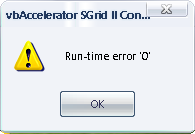 Runtime Error 0 is an indication that there is a problem with a particular software or the files the program is using to operate.  This error shows up when the program encounters a faulty component usually causing the program to crash.  This type of error is quite common when you have MalwareBytes installed on your system.  MalwareBytes can be a big cause of runtime 0 errors and you need to resolve the issues surrounding this program in order to fix the problem.  This tutorial will help you repair runtime error 0 on your PC.
What Causes Runtime 0 Errors?
Runtime 0 errors are primarily caused by the way in which Windows is unable to read or load specific files or settings required to run a program such as MalwareBytes.  The problem can also be caused by files that have been unregistered in the system and damaged or corrupted system settings.  You need to identify the source of the problem in order to fix runtime error 0 – which can be performed using the steps outlined below:
How To Fix Runtime Error 0
Step 1 –

Re-Install Any Software Causing Problems
The first thing that you need to do to fix the runtime error 0 is re-install any program that causes the error notifications to appear on your screen.  To re-install programs, you first need to remove it from your system, which you can do by clicking Start> Control Panel> Add/Remove Programs and select the application from the list.  Click the "Remove" button and follow the uninstall wizard, if the program has one.  Restart your PC and then insert your CD/DVD installer onto your optical drive once Windows resumes.  This process will ensure that the application will have fresh copies of program files.
Step 2 –

Re-Register Any Files That The Software Requires To Run
If the problem is caused by files that have become unresponsive to Windows, you need to re-register it for the software to properly work again.  To register a file onto your Windows system, follow these steps:
Open Command Prompt window by clicking Start> Run and type "cmd" and then press ENTER.  In Vista or Windows 7 systems, click Start and type "cmd" in the search box.
In the Command Prompt window, type "regsvr32 <filename>" and then press ENTER.  For example:
Close the Command Prompt window.
regsvr32 myfile.dll
Repeat the process until you have re-registered all the files you need to register again.
Step 3 –

Clean Out The Registry
The "registry" is a large and complicated database that stores all of the settings and options available for every file and program found in your system.  The registry is a major Windows component, but continually encounters errors as you keep on using your computer.  The errors inside the registry stems from damaged or corrupted registry keys which resulted from the improper saving of registry keys making Windows registry a big source of serious errors in your PC including the runtime error 0.
To be able to repair this error, you need to resolve the issues inside the registry by using a reliable 'registry cleaner' program that can efficiently scan your system and repair broken registry keys immediately.  We suggest that you download this tool, which is our recommended cleaning tool for it has been found out to be consistent in fixing 99% of errors and faults in your system enabling you to have an error-free system.