How to Repair VIDEO DXGKRNL FATAL ERROR in Windows 10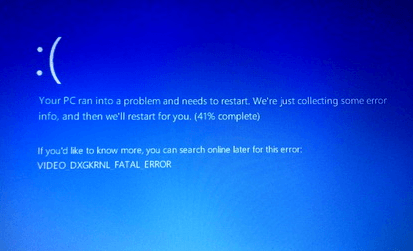 Has your computer frozen all of a sudden and displayed a blue error screen stating that your PC needs to restart because it experienced the VIDEO DXGKRNL FATAL ERROR? The error comes up with the following error code: 0x00000113. This fatal Windows 10 error occurs because of a Microsoft bug check that detects a violation in DirectX graphics kernel subsystem and is a common side effect of the Windows 10 anniversary update (although it's also known to affect Windows 8 and Windows 8.1 users).
In this post, we'll have a look at what you can do to repair VIDEO DXGKRNL FATAL ERROR on your Windows 10 computer.
What Causes the VIDEO DXGKRNL FATAL ERROR
Most of the time, this BSOD Windows 10 error occurs when you're installing new software or trying to install a Windows update. Less frequently, you can get this error when simply powering up your PC.
There are several things that could be responsible for the VIDEO DXGKRNL FATAL ERROR, including:
Problems caused by malware
Corrupted Windows system files
Problems with your video card driver (incompatibility, wrong driver, outdated driver)
Hardware problems (damaged hardware, incompatible new hardware, etc.)
How to Fix VIDEO DXGKRNL FATAL ERROR on Windows 10
The exact fix for this error depends on the cause of this BSOD. Let's have a look at some common scenarios.
Fix 1: Remove Malware from Your PC
The first thing you should do when you experience this error is to conduct a scan for malware using a trusted anti-malware program, like Avast, Malwarebytes, and similar. If the scan returns infections, follow the program's choice to quarantine and remove them.
Remember to restart your PC once the anti-malware software has done its job to make sure all malicious files are deleted.
Fix 2: Repair Hidden Windows Errors
If corrupted Windows system files are responsible for the VIDEO DXGKRNL FATAL ERROR, then fixing them using an automated repair tool will get rid of the error. This is the fastest and the most reliable way to repair system files. Alternatively, follow these steps to run Windows 10's internal repair tool using the Command Prompt:
Make sure you're logged in as an administrator
Press the Windows key + X, then select the Command Prompt (admin)
In the Command Prompt window, type sfc /scannow and hit the Enter key
If you get a message that Windows Resource Protection found corrupt files but was unable to fix some of them on the screen, boot into Windows Safe Mode and repeat the steps.
Fix 3: Repair Driver Errors
Since the VIDEO DXGKRNL FATAL ERROR is often related to problems with your video card driver, fixing driver issues should fix everything. First of all, use Windows Search to open the Device Manager (type Device Manager in the search box and select it from the results) and look for any yellow exclamation mark signs. When you see that sign next to a device name, that means there's a driver conflict or problem.
Once you've identified that there are driver-related issues, we recommend using a trusted tool like DriverAgent to download and install correct and up-to-date drivers for your devices automatically.
Fix 4: Perform a Clean Boot
If the above-mentioned steps didn't fix the VIDEO DXGKRNL FATAL ERROR in Windows 10, it's a good idea to perform a Clean Boot. Doing that will help you identify services running on PC startup that might be causing the error. It will also show you if a driver or a program you have installed is the culprit.
To perform a Clean Boot, make sure you're logged in as an administrator, then follow the steps from this Microsoft article.
Fix 5: Use System Restore
Another way to get rid of this BSOD error is to restore your system to last known good configuration. Doing that will erase any conflicting programs you might have installed and in general fix your Windows setup.
To perform a system restore, follow these steps:
In the search box on the taskbar, type control panel, then choose it from the list of results
In the Control Panel search box, type recovery.
Select Recovery > Open System Restore.
In the Restore system files and setting box, select Next.
Select the restore point that you want to use in the list of results, and then select Scan for affected programs.
You'll see a list of items that will be deleted if you remove this restore point. If you're OK with the deletions, select Close> Next > Finish.
We hope that this post helped you to remove the VIDEO DXGKRNL FATAL ERROR and get your computer going again.