Learn How to Protect Your PC or Mac with "Shields Up!"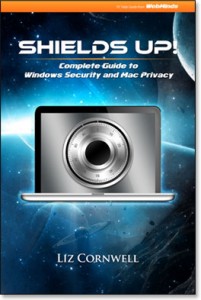 Malware, viruses, online fraud, scams – the list goes on and on. All this thing threaten you online and put your computer at risk. Moreover, they put your whole life at risk, as thing like identity theft are not  laughing matter. You can reformat your computer to get rid of viruses, but reformatting your whole life will prove a lot more difficult. That's why the best way to fight computer infections and online threats is prevention. "Shields Up! Complete Guide to Windows Security and Mac Privacy" is the book that teaches you how to stay away from the most common and latest computer security threats.
"Shields Up!" is not your typical computer security book. Most security books are written for a corporate environment, whereas "Shields Up!" concentrates on teaching a home user everything he or she needs to know about protecting their PC or Mac. It's written in an easy to read style and explains everything in plain English. This helps users to understand how viruses and other threats work and teaches them how to protect themselves. The book covers common viruses and malware infections, explains how each type of infection works, provides instructions how to remove the most common viruses, and shows readers how they can protect their online accounts and stay away from scams and online fraud. This is especially important in the world where a hacked Facebook account is as common as a typo in a student's essay.
Another great thing about "Shields Up!" is that it covers both Windows and Mac security. True, Mac systems are a lot more secure, but they too require protection. And even a Mac can't save Internet users from spam and various scams. That's why the book emphasizes things like file encryption and password management on Mac computers.
"Shields Up!" has been published in 2012, which means that all information presented in the book is current and all the fixes are not outdated. This is especially important in the world of computer security, as various threats evolve very quickly.
To summarize, "Shields Up! Complete Guide to Windows Security and Mac Privacy" is an excellent book that will help Windows and Mac users stay safe.
The book is available as a paperback and as a PDF. You can purchase the paperback here and the PDF is available for free to everyone who purchases RegAce, an advanced system cleaner and optimizer.