My PC Suddenly Shuts Down – How To Fix It
If your Windows computer is suddenly shutting down with no apparent cause, there could be a variety of problems with your computer. This tutorial is going to show you how to fix this problem and prevent it from ever coming back again…
What Causes A PC To Shut Down Suddenly?
There are a number of reasons why computers just shut down suddenly. Determining which problem is causing the shutdowns is critical to fixing the issue for good, and the most common reasons are down to the hardware of your PC being inadequate or overheating… and the software of your system being unable to process your commands.
Any computer can develop this problem, as it's a general "fail-safe" for Windows. Fortunately, there's a very easy way to fix the issue, by following the method outlined below:
How To Stop This Problem For Good.
Step 1 – Take The Side Of Your Computer Case
One of the most common reasons why Windows will just shut down is because of overheating. This is a problem which is barely recognized, even by professionals, and in order to prevent against it… you should keep your computer as cool as possible.
The easiest and most effective way to do this is to just take off the side of your computer case (if you have a desktop PC) and then put a desk fan near it, blowing cool air onto your system. If this does not stop the problem, then you should move onto Step 2…
Step 2 – Start Your PC In 'Safe Mode'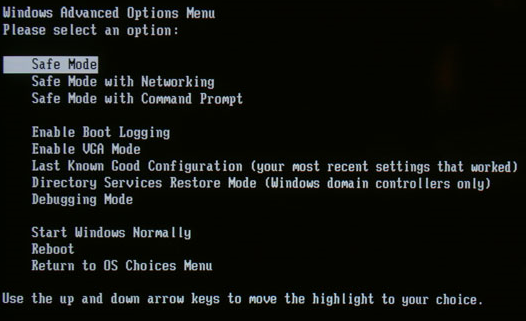 "Safe mode" is was developed to help Windows load up without any of the drivers and software that often cause it problems. To stop your PC from crashing all the time, you should first load it up with this mode, so that you can determine whether your computer is being affected by a hardware or software issue
To boot in safe mode, you must first restart your PC and then press F8 continuously before Windows has even started to load. This will bring up the options screen you can see above and will allow you to choose "Safe Mode". Upon loading up your PC in this mode, it will look a lot different, because it will not have any of the resource-intensive drivers or software running. This means that you can use your PC as normally as possible and if it crashes, then the problem is going to either be a hardware or Windows issue.
Step 3 – If Your PC Crashes In Safe Mode…
If you use safe mode for about 30 minutes to 1 hour, and find that your system is still crashing then you should try and reinstall Windows. The problem is that if you're getting crashes even when Windows is in safe mode, the problem is either going to be caused by Windows or by the hardware of your system.
You should see how to reinstall Windows at this link, and perform the reinstall on your system. This will wipe out all the old settings and files that could have been causing your computer to shut down suddenly, and will replace them with fresh new ones straight from Microsoft. Sometimes, it just takes an update of Windows to make your PC highly unreliable.
Once you've reinstalled Windows, try using the system again. If it does not crash this time, it should be okay… but if you find it does have problems, then the problem is most likely to do with the hardware of your PC being faulty… and you should try & take it to the PC repair shop.
Step 4- If Your PC Does Not Crash In Safe Mode, Clean The Registry
If your computer does not crash in Safe Mode, it suggests that the software of your system is at fault. This is an issue which many computers have and is one which is actually very easy to fix. The most common cause of software issues is with a database called the 'registry'. This is the central location for all the settings and software on your computer. It's often the case that the registry will become damaged and corrupted and Windows will be unable to read the files it needs from it.
This is a very common problem, and to fix it you should download and run a registry cleaner. This will scan through your system and remove any of the damaged or corrupted files that could be causing your PC to become damaged. We highly recommend using a registry cleaner called "RegAce System Suite", you can also see in the footer below: