Runtime Error 217 on Windows 10: a Complete Repair Instruction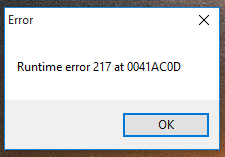 Runtime errors are very common in all versions of Windows including Windows 10. These errors cause freeze ups, crashes, and other computer problems. Like with most Windows errors, runtime errors come with a code that is supposed to help users the cause of the problem and find the right repair solution.
Windows runtime error 217 is one of the most difficult to fix because it doesn't really tell the user what caused it. The computer simply keeps crashing and the runtime error popup keeps showing up. This happens not because the error is so mean (although it is in a way) but because a number of things can result in the error. These things include:
viruses and malware on your computer
the system's inability to register DLLs when installing or updating software
incorrect regional settings
an old corrupted msvcrt.dll somewhere on your computer
missing or corrupted registry entries
an outdated MS DCOM file
a missing stdole32.tlb file
So, let's have a look at how to fix runtime 217 error on Windows 10 depending on its cause.
Fix Runtime Error 217 Caused by Malware
If you suspect that the runtime error 217 happens because your computer is infected with malware, scan your PC with trusted anti-malware software to find and remove the infection. Depending on the complexity of malware, you may need to delete it in Safe Mode. But most antimalware programs should deal with viruses without having to go to Safe Mode, so you should be OK.
Before you deal with the malware, you should back up your important documents and other files just in case something goes wrong. But make sure you don't create a full disk image backup because that way you'll be backing up the malware as well as your files.
Once you've cleaned up the malware, it's a good idea to run a Windows repair tool to delete any remaining malware entries and optimize the Windows registry for proper performance.
Fix Runtime Error 217 Caused by Software Problems
If you suspect that you're getting the error because of an incorrect software installation or update, then you'll need to find which app is causing the problem. To do that, go through your recently installed programs and uninstall them one by one. The runtime error 217 will be gone as soon as you uninstall the corrupted program. You can then reinstall the app you want, but before that make sure that you have the correct installer and that it's not corrupted or broken in any way. That will help you to make sure the runtime error doesn't come back.
The same applies to finding the culprit software for recently updated apps. This might take a bit longer especially if you don't keep track of the software you update. The error is most likely cause when you install an update on top of the previous version, so if you're having that problem, try removing the old version first, downloading the update, and installing it from scratch.
Incorrect Regional Settings
As pathetic as it sounds, the runtime error 217 can appear when your computer has incorrect regional settings and incorrect time and date settings. So if you're getting the error, make sure your time and date settings match the country where you're located.
An Outdated msvcrt.dll File
If you're getting the runtime error 217 because of an outdated and corrupted msvcrt.dll file, make sure you install all Windows updates issued for your OS. If that doesn't help, go to Microsoft's website and look for the latest version of the msvcrt.dll file. Download it and replace your old file with the new version – that should fix the problem.
Missing or Corrupted Registry Entries
Problems in the Windows registry can cause all sorts of Windows errors, including the runtime 217 error. While Windows 10 handles the registry a lot better than previous versions of Windows, scanning your PC with a trusted system optimizer and registry cleaner can help you to not only get rid of the error, but make your PC run faster and better.
An Outdated MS DCOM File
This is another system file that may cause runtime error 217 if it's outdated. Just like with the .dll problem, this can easily be fixed by downloading all updates from Microsoft's website and installing them.
A Missing stdole32.tlb File
A missing stdole32.tlb file can cause all kinds of problems, including the runtime 217 error. To fix the problem, download the correct file for your operating system from a trusted dll download site.
We hope that our guide helped you find the cause of runtime 217 error on your Windows 10 computer and fix it once and for all.