Steps To Repair 0X80040609 Error – Windows Live Essentials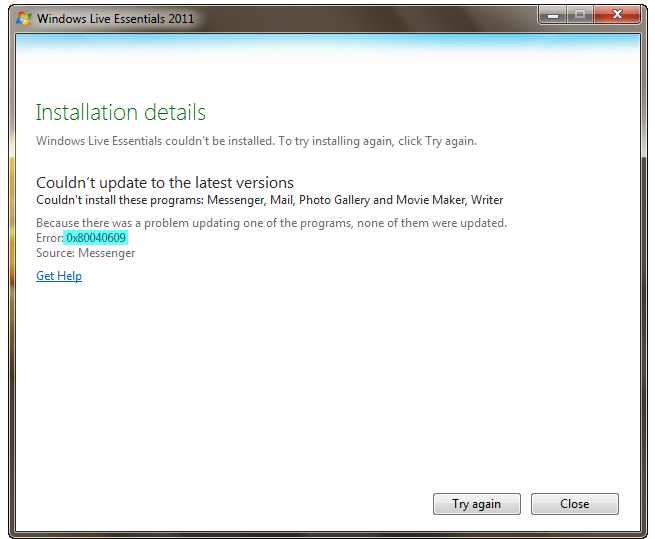 The 0×80040609 error is caused by your PC not being able to correctly load the installation for Windows Live.  The reason why your PC will be acting this way is due to the presence of numerous bugs in Windows. In order to repair this error you need to address the issues that are causing your PC to slow down. This tutorial will teach you how this can be done.
What Causes This Error?
This system error is typically caused by Windows not being able to load the settings that it needs to install the suite of Windows Live Programs on your computer. This is because of several reasons, namely: 1) the settings in your computer are experiencing errors 2) your PC is having problems processing the settings it needs to run 3) your Windows Firewall is turned off.
To fix this error, you need to do several things, such as turning on Windows Firewall on your PC, as well as ensuring that your PC is using all the correct options and settings that it needs to run.
How To Fix Error 0X80040609
Step 1 –

Enable Windows Firewall
Step one in repairing this problem is to enable Windows Firewall on your PC.  The steps below explain how this can be done.
Open the Start menu and click on Control Panel
Access System Security
Afterwards, look for the Windows Firewall Status
Next choose the Turn Windows Firewall On or Off tab which you will find on the left of the pane
Doing this will enable the Firewall in your PC to run, which can ultimately improve the speed of your computer.
Step 2 –

Uninstall Current Windows Live Essentials
The problem may be due to the files of your Windows Live program being damaged. You must uninstall the current Live Essentials program in your system to remove damaged or corrupted settings, before replacing them with fresh files by downloading the program again.
Click on the Start icon on your Windows Bar
Next choose Control Panel
Afterwards, select Uninstall A Program
Look for Windows Live Essentials and select Uninstall or Remove.
Finally, you can reinstall the program again by downloading it from the internet, or using the file installer.
Step 3 –

Clean your PC with Windows Installer Cleanup Utility
Download the Windows Installer Cleanup Utility here
The Windows Installer Cleanup Utility is a tool that you can use to repair or fix errors occurring with your Windows Installer.  If for some reason you are having problems installing programs in your system, you can use this tool to fix any related problems on your PC.
Step 4 –

Clean out the Registry of your Computer
The 80040609 error is also caused by "registry" errors that your system may have. Inside your registry are thousands upon thousands of files, settings, and configurations whose number keeps growing the more you use your computer. Virtually all hardware and software processes in your system depend upon the information that is stored in this section of your computer.  Unfortunately, there are just too much unnecessary data in the registry.  These extension files only serve to slow down your PC, causing crashes and errors to surface.
It is important that you clean your registry from time to time to remove redundant data.  However, it is not advisable that you do this manually as there is a risk that you might in the process accidentally cause important files to disappear leading to more problems. It is thus recommended that you use a registry cleaner for this purpose.   A registry cleaner is designed to safely scan and remove useless files from this section of your system.