Windows Diagnostic Removal Tutorial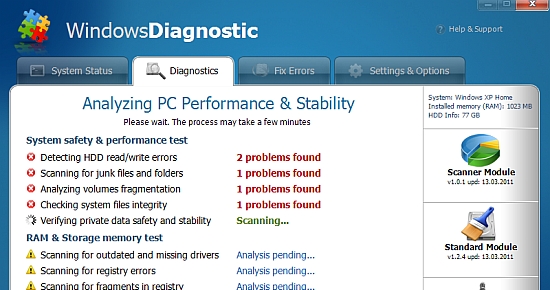 WindowsDiagnostic is a fake antivirus program which has been created to try and get you to buy the false upgrade to the system. Although this program may look legitimate, it's all part of the scam. You should NOT trust this virus at all, and you have to be able to get rid of it in the most effective & reliable way – which is to stop the program from running before deleting it. This can be done by using the steps outlined on this website.
What Is Windows Diagnostic?
This is a fake piece of software called a "malware" (malicious software) program. It's basically been designed to try and get you to buy the rogue upgrade to the program, which in turn will just sit on your system and do nothing. This virus works like many of the other scams out there – in that it will install itself onto your PC and then do nothing but cause problems for your PC. This can be done by cleaning out the various problems that will lead the errors to show – making it important that you're able to stop the virus from running before getting rid of it.
This virus will stop the likes of your Task Manager working, as well as preventing a number of important programs from working. This means that, unlike typical viruses, this can only be removed by taking a further step, and deleting the infection's files & settings from your system for good.