Windows Oversight Centre Removal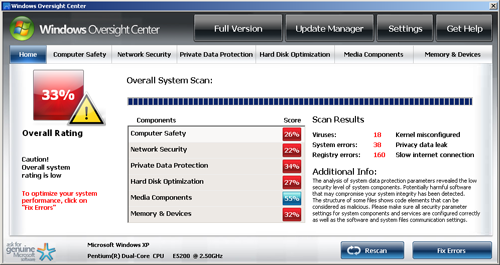 Windows Oversight Centre is what's known as a Fake Anti-Virus, which unfortunately are becoming extremely common and people's computers. The main aim of these fake anti-viruses is to get you to hand over your hard earned money without you even knowing that you've been conned. They do this by putting you in a false sense of security which includes their program scanning your system and finding fake infections and viruses (but you don't know they're fake). Once the scan has finished they will then say 'Your system is at risk' and will then ask you to purchase the full version of their program so that you can remove the apparent infections. However you can fully remove this infection but first, to ensure this problem is not a big deal, you have to first restart your PC into "Safe Mode" before getting rid of the infection with a legitimate anti-spyware application.
How Do You Catch This Virus?
There are a number of different ways that you can catch these fake anti-virus infections, some of them are outlined below:
Opening spam or suspicious emails
Navigating round infected or suspicious websites
Downloading untrustworthy programs or files