Windows Passport Utility – How To Remove This Virus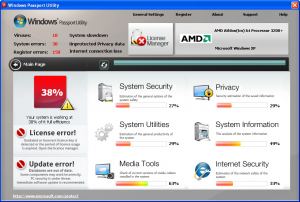 Windows Passport Utility is a complete scam which will infect your PC from the Internet, install a number of rogue files & settings, and then try to cause all sorts of problems for your PC. This virus is like 100's of other similar infections, which show you this software design, and then just trick you into purchasing the fake upgrade to this software. In order to remove the virus from your computer, it's really essential that you stop the program from running before deleting it from your system for good.
What Is Windows Passport Utility?
Windows Passport Utility is a virus & a scam. It works by installing itself onto your computer, and then trying to show you a number of fake scanning results in an attempt to get you to buy the fake upgrade to the program. It works like the traditional "ransom" scam – whereby it will try and trick you into paying a fee to "fix" the problems that your PC supposedly has. You should not trust this tool, and need to remove it in the most effective way possible.
We've found that Windows Passport Utility has a number of very undesirable features, which include the likes of it blocking your Internet settings, your software and a number of other programs which you will need to use to run, including "Task Manager". To stop this virus, we recommend restarting your computer into "Safe Mode" and then using a spyware removal tool to stop it from running.