Disable Thumbnail Generation in Windows to Fix File in Use Errors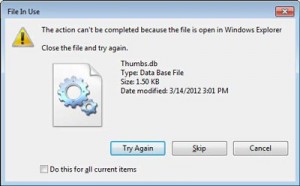 You're trying to delete a file on your Windows PC only to get a "File in Use" error. This is one of the most annoying errors that has been nagging Windows users since the very early days and, even though Microsoft made tremendous progress with the OS, still hasn't been fixed. In this post we're going to show you how to fix the "File in Use" error without the help of any software.
Why Does Windows Say "File in Use"?
Most of the time, the "File in Use" error appears when you are trying to delete folders that you no longer need. These folders contain files and, even though you don't have any of these files open, you get the "File in Use" error. While the error persists, you can't delete the whole folder or the file in question. But if you look at the file closely, you'll see that most of the time Windows says that a file called Thumbs.db is in use. This Thumbs.db is a thumbnail database file that Windows generates in order to be able to show you thumbnails of files contained in a folder, usually images and/or videos.
Whenever you open the folder in question, Windows loads the Thumbs.db file, which means that it becomes used and can't be deleted until it's closed. Sometimes all you have to do is close the folder, wait for some time to pass and then delete the folder from Windows Explorer. But that doesn't work all the time. To fix the problem, you can disable thumbnail generation in Windows.
How to Disable Thumbnail Generation in Windows
First of all, if you're not feeling comfortable disabling thumbnail creation system-wide, there's a simple trick that will prevent them from loading. All you need to do is switch Windows Explorer view from icons or tiles to Details. To do that, open Windows Explorer, click on File, select View and then select Details. Now you can freely delete any folder because Thumbs.db files won't be loaded.
If you're determined to get rid of "File in Use" errors once and for all, you can permanently disable thumbnails creation. The easiest way to do that is through Group Policy Editor. To open Group Policy Editor, type gpedit.msc in the Start menu run box and press Enter. Then go to User Configuration –Administrative Templates – Windows Components – Windows Explorer (or File Explorer if you're on Windows 8). There find Turn off caching of thumbnails in hidden thumbs.db files and double-click on it to open the options. Select Enabled, click OK and then reboot your computer for the new settings to take effect. Now your PC won't be generating annoying Thumbs.db files and you won't be getting the "File in Use" error.