How to Fix 100% Disk Usage in Windows 10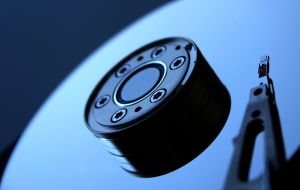 So you got a brand new Windows 10 computer. You expect it to be fast but it's exactly the opposite. The new laptop is slower than a snail. When you open the Task Manager (CTRL+SHIFT+ESC) and click on "More Detail", you see that your computer is using 100% of its disk resources. This can happen to both HDDs and SSDs. In this article we're going to help you fix 100% disk usage in Windows 10.
What's the Cause of 100% Disk Usage?
Just like with most computer problems, 100% disk usage in Windows 10 could be caused by a number of factors. So the fix depends on what exactly is causing your disk to run at 100%. But the most common causes of high disk usage are:
Malware
Windows search
Windows Superfetch
Flash
Read on to find out how to fix each of these problems to get your disk usage back to normal.
Scan Your PC for Malware
The first thing you should do when your computer becomes slow and you notice that disk usage is abnormally high, is to scan your PC for malware. A free tool like Malwarebytes should help you find the infection.
Disable Windows Search
Sometimes Windows search can cause 100% disk usage in Windows 10. This happens because of a bug that causes a search loop. You can try to disable Windows search for your current session and see if it makes things better.
To disable Windows search until you reboot your PC, open the Command Prompt (Admin) and type the following:
net.exe stop "Windows search"
Press Enter and see if it helps.
If it does, you may want to disable Indexing altogether. To do that, press Windows key + R, enter services.msc, and press Enter. The Services window will open. There find the Windows Search entry and double-click on it to open the Windows Search Properties window. Find Startup type and set it to Disabled. You can also click Stop to abort the service. Click OK to save your changes and you're done.
Disable Windows Superfetch
Another Windows service that might be causing unreasonable high disk usage is Windows Superfetch. You can disable it from the Command Prompt (Admin) using this command:
net.exe stop superfetch
You may also want to check your disk for errors using the Check Disk tool. To do that, enter the following command in the Command Prompt:
chkdsk.exe /f /r
Close all running applications and reboot your PC. Then grab a cup of coffee because the Check Disk tool can take a while to finish its job.
Disable Flash
Another common culprit for causing 100% disk usage is Adobe Flash. Actually, it's surprising that the plugin is still there as it's extremely vulnerable and unstable. Especially if you're using Google Chrome. So, head over to your Chrome browser and check the plugins. When you see Flash there, disable it. You can also prevent Chrome from ever using it again and block websites from running Flash. Here's how.
Open Menu – Settings – Show advanced settings… and find the Privacy section. There, click on Content settings… and find Flash. There should be three options. Select Block sites from running Flash, then click on Done. Restart the browser, and check your disk performance.
We hope that these tips helped you fix 100% disk usage in Windows 10 and make your computer fast and responsive again.