How to Fix Windows 10 Error Code 0xc0000034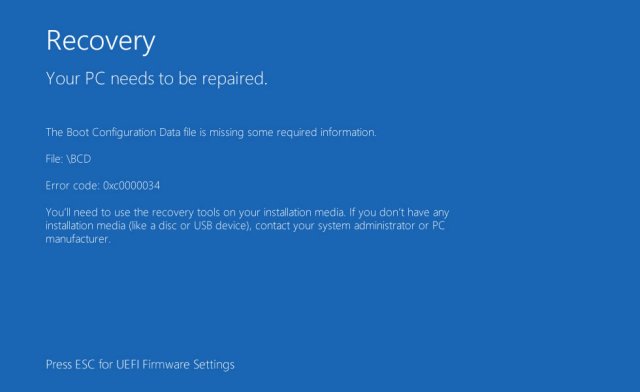 Did you open your laptop only to find that Windows 10 wouldn't boot? It was fine yesterday but now, out of the blue, you get error code 0xc0000034 and a message saying 'Boot Configuration Data file is missing'. But don't panic, your data is still there and you can get it back. In this article, we'll show you how to fix Windows 10 error code 0xc0000034 and restore your computer back to normal.
Why Did I Get Windows 10 Error Code 0xc0000034?
Well, several things could have caused it. Most likely, your Windows installation became corrupted because of a faulty registry setting. The main thing is that this error prevents Windows from accessing the boot files and causes a BSOD (Blue Screen of Death). You can fix the 'Boot Configuration Data file is missing' BSOD by repairing your installation. To do that, you'll need Windows 10 setup USB stick or DVD.
Repair Windows 10 0xc0000034 Error
Now that you have your Windows 10 setup bootable media, follow these steps to fix the error.
Start your computer with the Windows 10 USB stick or DVD. You'll be asked to select your keyboard and language settings.
On the next screen, select the option to 'Repair your computer' in the bottom left corner
You should get a screen with various options
Click on 'Troubleshoot' and then select 'Advanced Options'
Now click on the 'Command Prompt' option
A Command Prompt window will open. Enter the following commands there:
bootrec /fixMBR
bootrec /fixBoot
bootrec /rebuildBCD
Make sure to press 'Enter' after each command.
Now type A and hit Enter to add the installation to the boot list
Close the Command Prompt window and click on 'Continue' to exit the setup and proceed to Windows 10 home screen.
Hopefully, this will fix Windows 10 Error Code 0xc0000034 and your computer will boot as it should. If it doesn't, try repeating these steps and add this command:
BCDboot c:/windows /s c: /l en-us
How to Prevent the 'Boot Configuration Data file is missing' Error
The only way to prevent the 0xc0000034 Windows 10 error is to keep your PC as healthy as possible. Try not to download any dubious programs that may harm your system and keep your PC optimized at all times. That will reduce the chances of your boot configuration data file becoming corrupted and breaking your installation.