How to Fix PFN LIST CORRUPT BSOD Error on Windows 10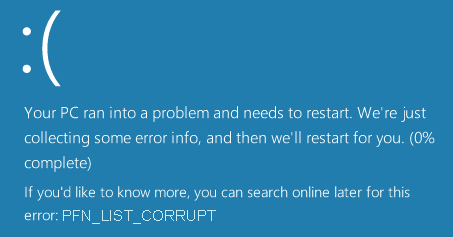 Have you updated your Windows 10 computer and suddenly started getting the PFN LIST CORRUPT Blue Screen of Death error? In this post, we're going to help you deal with this problem and get your PC up and running again.
Why Am I Getting This BSOD Error?
This error message, followed by the Windows stop error (commonly known as the Blue Screen of Death) means that your operating system encountered a problem it couldn't deal with and had to shut down. In this particular case, the actual problem is with the corrupted Page Frame Number (PFN) list. Most of the time, this BSOD comes with an error code 0x0000004E.
A lot of users encounter this problem either after installing a Windows 10 update or after installing new hardware or software.
How Do I Fix the PFN LIST CORRUPT Error in Windows 10?
Like with most BSOD errors, it's important to determine what exactly caused the problem.
Fix 1: Check External Connected Hardware
The first thing you should do when you get the PFN LIST CORRUPT error is safely disconnect all connected hardware devices. These include external hard drives, printers connected via USB, card readers, USB thumb drive, etc. Also, check the Device Manager for any device driver conflicts (type Device Manager in the Windows Search box, open it and look for any yellow exclamation marks next to drivers).
If you find any driver conflicts, right-click on the respective driver and click on Update driver. Let Windows automatically search for and download the driver. Hopefully, this will fix the BSOD.
Fix 2: Uninstall Unneeded Security Programs
Often conflicting security programs can cause the PFN LIST CORRUPT error. That's why it's a good idea to check if you have two antivirus programs/suites installed on your Windows 10 PC. If there are two or more, keep only one of them and uninstall the rest. Doing this will not only help you to fix the PFN LIST CORRUPT BSOD but also improve your computer's overall performance.
Fix 3: Uninstall Conflicting Recently Installed Software
If you installed a piece of software and started getting the PFN LIST CORRUPT blue screen right after that, head over to the Control Panel – Uninstall a Program and uninstall that software. If it proves stubborn, use a program like Revo to uninstall stubborn programs.
Fix 4: Install all Pending Windows Updates
Another way to get rid of this pesky BSOD is to make sure all Windows updates and hotfixes are installed on your machine. To do that, follow these steps:
Press Windows + I to open Settings
Click Update & security and then click on Windows update
Click on Check for updates and install all updates your PC finds
Restart your computer to apply the updates
Fix 5: Run the System File Checker
If corrupted system files are causing the PFN LIST CORRUPT error, running the system file checker will help. You can read how to run the checker in this Microsoft article.
In addition to that, make sure you download our recommended Windows repair tool and let it fix all corrupted entries and files it finds.
We hope this article helped you get your PC up and running again!