How To Remove Green Antivirus 2009 – Removal Instructions
Green Antivirus is a malicious antivirus tool which has installs itself on your computer, performs a fake scan and then reveals a lot of imaginary viruses that are on your system. The software then prompts you to download the full version of the scanner, where they charge you a sizable amount of money in the process. The Green Antivirus tool is highly annoying and removing it is not as easy as you might expect. Luckily, we've been able to remove it very easily, and here's how…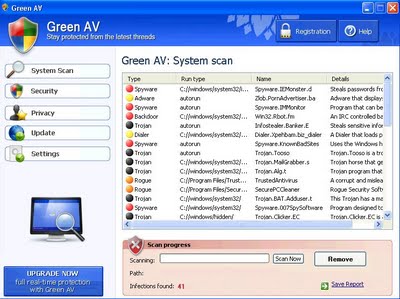 Green Antivirus might look like a legitimate antivirus tool, but it's sole purpose is to show a series of "false positives" and then scare you into buying the software.
Manual Green Antivirus Removal Instructions
Step 1 – Kill Processes
On your keyboard, press CTRL + ALT + DELETE simultaneously to bring up the Task Manager. This shows you which programs are running on your system at the time, and will allow you to stop Green AV 2009 running in its tracks. You just need to press those 3 buttons and then click on the "Processes" tab on the new Window that  appears. You then need to click on the following processes and press delete on them:
greenav2009.exe
gav.exe
mgrdll.exe
Install[1].exe
This will then stop Green Antivirus from operating on your current session. You see screenshot of how to do this below: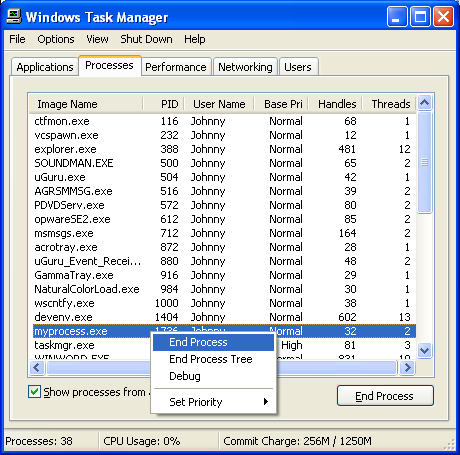 Step 2 – Delete The Program Files
All Windows programs operate by using "program files" to tell them what to do. This allows the program to operate in the same way every time, and these program files are basically the files which make the program work. They are like the "motor" of the program, and by removing them, you'll be able to make the program stop working. To remove Green Antivirus 2009, it's important you remove the program files for it after you've stopped it's processes.
To do this, browse to C:\Programfiles\gav\ (click on "My Computer" and then click on the C Drive, followed by clicking on "Program Files". In there, you'll find a folder called "gav"). Select that entire "gav" folder and then hit SHIFT + DELETE to permanently delete it from your PC.
Note For Vista Users – You will also need to delete the directory "ProgramData/gav/" as well.
Step 3 – Clean Up The Registry (Important!)

The Green Antivirus tool will also plant several keys in the registry database, notably, these keys will be created:
* HKEY_CURRENT_USER\software\avr lastd
* HKEY_CURRENT_USER\software\avr lastscan
* HKEY_CURRENT_USER\software\avr lastvfc
* HKEY_CURRENT_USER\software\avr virlist
* HKEY_LOCAL_MACHINE\software\microsoft\windows\currentversion\run advanced virus remover
* HKEY_LOCAL_MACHINE\software\microsoft\windows\currentversion\run advanced virus remover
* HKEY_CURRENT_USER\Software\AVR
* HKEY_CURRENT_USER\Software\Microsoft\Internet Explorer\International\CpMRU
To remove these, you should download a registry cleaner which will remove all these keys from the registry. You can get different registry cleaners from different places, but we have a favorite registry tool called "RegAce". You can download it here.