How To Remove Windows Supervision Center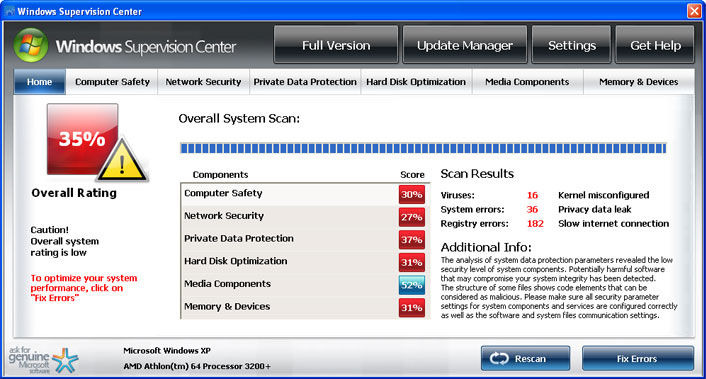 Windows Supervision Center is a rogue fake anti-virus program which infiltrates your computer by secretly downloading and installing itself onto your system. It does this because you have either been on dangerous websites or opened up spam emails and are unaware of the infection gaining access to your computer including delicate files and settings. Once the infection is set it the gets to work by dispersing infectious files and settings throughout your system as this makes it very difficult to remove. You can tell if you have this virus on your computer because all windows that you are on will immediately close down, and things look to be frozen and unresponsive. However this then causes Windows Supervision Center to load and begin to start scanning your computer and it will always return to say it has found dangerous infections which should be removed immediately. They then say that you can remove these infections by purchasing the full version, which is completely bogus and fake and should not be trusted because it is a giant scam.
How Do You Catch Windows Supervision Center
It it said that computer hackers from Eastern Europe, Asia and even the Middle East are behind the vast range of fake anti-viruses and that they keep producing more and more. Once these hackers have created these viruses they will then use various techniques to get them onto your system such as, using spam emails, suspicious websites and untrusted links.