iTunes 2330 Error Fix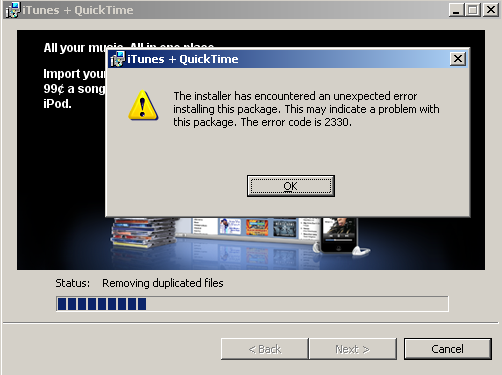 iTunes 2330 error is a common problem that's caused by system inconsistencies & errors inside Windows. Although this error may appear when you are trying to install iTunes, or when you're using the program, it's important that you're able to clean out the various problems that will likely cause it to show this problem. To do this, we highly recommend using a tool called a "registry cleaner" as well as a number of important options that will allow the program to operate properly.
The error will generally show in this format:
The installer has encountered an unexpected error installing this package. This may indicate a problem with this package. The error code is 2330
Here's how to fix:
What Causes The iTunes 2330 Error?
This error is caused by the way in which Windows will not be able to process the files required to run iTunes. This can be best fixed by first ensuring that your system is able to repair the various problems that your PC may have inside, as well as cleaning out the settings that could be damaging the system.
Windows will have errors with its "registry" settings
Your PC will be unable to run smoothly
Windows will have some sort of problem with its installer files / settings
How To Fix The iTunes 2330 Error
Step 1 –

Remove Any Traces of iTunes & Re-Install
The first thing to do is to remove any traces of iTunes that may be on your PC already, and then re-install the software again. This can be done by following the steps outlined here:
Click "Start"
Click "Control Panel"
Click "Add / Remove Programs" (Windows XP) / "Uninstall A Program" (Windows Vista & 7)
Remove iTunes, Bonjour & MobileMe
Restart Your PC
Download the latest version of iTunes from the Internet
Try installing it again
Step 2 –

Make Sure You're Installing As Admin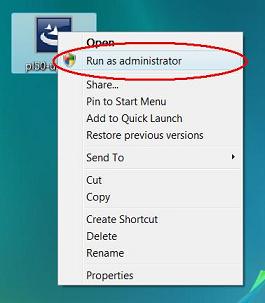 You need to make sure you're running the installation as the administrator of your PC. This is best done by right-clicking onto the icon for the installer, and then selecting "Run As Administrator". This will allow you to run the program with administrator privileges.
Step 3 –

Rename The Language Folders For The Installation
The language folder is another common cause of iTunes errors, and should be resolved by cleaning out the various parts of your system. You can do this by performing these steps:
Click onto "My Computer"
Browse to this folder: "C:\Program Files\iTunes\iTunes.Resources\fi.lproj"
Rename the entire folder
Step 4 –

Clean Out The Registry Of Windows
One of the biggest causes of problems is the "registry" of your computer. This part of Windows is where all your system's settings, options & important files are kept. Although it's a highly important part of Windows, it's continually causing a lot of problems that will prevent it from operating as smoothly as possible. We've found that the 2330 error is likely caused by a large number of corrupted settings inside the registry of your system, making it vital that you're able to clean out this part of your PC in the best way possible.
We recommend downloading a program called RegAce System Suite. This tool is able to clean out the largest number of problems on your system, ensuring that the iTunes 2330 error will be fixed from it.