Fix Error 0x800ccc0f – Outlook Error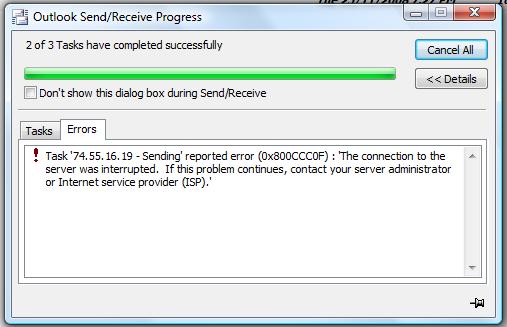 The 0x800ccc0f Error is a Microsoft Outlook error that indicates there is a problem with the mail client or the account settings of the email configured with it.  This error usually occurs when you try to send and receive e-mail using Microsoft Outlook or Outlook Express.  The error is primarily caused by the way in which Windows is unable to process or load some settings connected with the e-mail client installed on your computer.  You need to resolve the error by making sure that your Internet connection is working properly and your account settings are correct.  This tutorial will teach you how to easily fix 0x800ccc0f errors on your PC.
What Causes Error 0x800ccc0f
"Your server has unexpectedly terminated the connection. Possible causes of this include server problems, network problems, or a long period of inactivity. Account. account name, Server: 'server name', Protocol: POP3, Server Response: '+OK', Port: 110, Secure(SSL): No, Error Number: 0x800ccc0f"
The various 0x800ccc0f error notifications that appear on your screen are mainly caused by a faulty Internet connection and incorrectly configured e-mail account.  The problem can also be caused by problems with some settings in your system.  You need to identify the source and resolve the error efficiently – which can be performed using the steps outlined below:
How To Fix Error 0x800ccc0f
Step 1 –

Ensure You Are Connected To The Internet & Have Correct Settings
The most common causes for the error message to appear on your screen are problems with the Internet connectivity and incorrect account settings.  You must ensure that you have access to the Internet by verifying all devices such as the modem, router, and cable are connected to your computer and that they are all working properly.  Next, verify the email account/s that you have configured with Outlook or Outlook Express is/are set correctly with the correct email and password.
Step 2 –

Create New Email Profile
To resolve the error, you can create a new email profile in your Microsoft Outlook, which will ensure that there are no issues with the new email account.  To add a new mail profile, perform these steps:
Click Start > Control Panel > Mail, and then click the "Add" button.
Provide the name for the new profile, then in the "Add New E-mail Account" window, fill in the name, email address and password details.
Click the "Next" button and wait for the mail program to finish configuring your email account.
Go back to the Profiles section of your mail and select the newly created profile.
Select the "Always use this profile" radio button, and then click OK.
Your mail will then be configured and ready to use with your newly created profile.
Step 3 –

Use A Registry Cleaner To Fix Your PC
The "registry" is a common cause ofthe 0x800ccc0f errors on your PC as well as a host of other serious errors that contribute to the sluggishness of your computer.  The registry is a large and complicated database which Windows accesses to get the required file and program settings.  Despite having a key role in the overall performance of your system, it keeps accumulating errors as you keep on using your computer.
The problem with the registry lies in the way in which Windows loads hundreds of registry entries at the same time and can sometimes incorrectly save them causing registry keys to become damaged or corrupted.  To resolve the 0x800ccc0f errors, you need to clean your registry using a reliable "registry cleaner" program that can effectively scan your system and efficiently repair all detected errors, as compared to manually changing registry values yourself, which can be potentially dangerous and produce more errors.  We highly recommend that you download and use this tool to remove 99% of system errors on your PC.