Lsass.exe Error Fix – How to Repair Lsass.exe Errors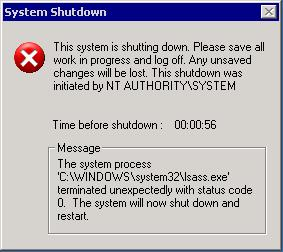 Does your Windows keep crashing and display an lsass.exe error? Lsass.exe is one of the core Windows processes that is extremely prone to errors that are not easy to fix. Disabling lsass.exe only makes things worse and doesn't fix the errors. On top of that, viruses and malware often pretend to be the lsass.exe file. I'm sure many of you remember the famous sasser worm. So, let's see what you can do when you get the lsass.exe error and how you can fix lsass.exe.
Lsass.exe stands for Local Security Authentication Server and it's responsible for verifying users when they log into Windows. In addition to that, lsass.exe is responsible for enforcing security policies within Windows. Basically, it's lsass.exe that checks your log in credentials and either grants or denies access. If something goes wrong and you force-close the lsass.exe process, you will get a Windows errors and will have to reboot your computer.
The worst bit about the lsass.exe error is that it can corrupt your operating system in such a way, that it will become unusable and you will have to reformat your hard drive and reinstall Windows. This error can be caused by a trojan pretending to be lsass.exe. Usually this trojan is called Isass.exe, which looks similar enough for you not to notice it when taking a look at running processes.
So, how to fix the lsass.exe error? The first thing you should do is simply reboot your computer. Believe it or not, but lsass.exe can have glitches and a simple reboot fixes the problem.
If restarting your computer doesn't help, then the first thing you should do is scan your computer with a reliable anti-malware program. Try using Malwarebytes' Anti-Malware – a free program that can detect and remove most types of malware. The best way to remove the Isass.exe virus is to run Malwarebytes' in Windows Safe Mode. Here is how:
Reboot your computer and start pressing F8 when the screen is still black
The Windows boot menu will appear. Use the arrow keys on your keyboard to navigate to Safe Mode and press Enter
Your computer will boot in Safe Mode, which should disable the virus
Run Malwarebytes in Safe Mode and delete everything it finds
Reboot your PC, keep tapping F8 and select Normal Mode
If your lsass.exe errors were caused by a trojan, they should be fixed. But what if the lsass.exe file was corrupted and the anti-malware program didn't fix it? Then you need to apply the lsass.exe error fix.
To apply the lsass.exe error fix, you need to fix the lsass.exe settings in the Windows registry. Of course, you can do it manually, but it's much easier to use a registry repair tool to fix lsass.exe. Simply download the recommended tool, install it and run a scan. Then let the program fix all detected registry errors and reboot your computer. The lsass.exe error fix will be applied and all errors should be gone.