"Print driver host for 32 bit applications has stopped working" Error Fix On Windows 7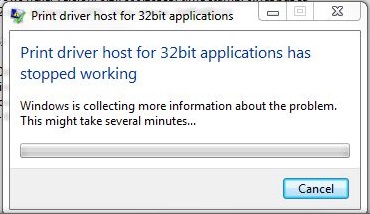 Windows 7 is a relatively new system that is still suffering from 'teething' errors with various devices, including printers.  The "printer driver host for 32 bit applications has stopped working" error message is a common issue with network printers.  The error appears not only when you attempt to print using the network printer, but rather surprisingly when you are not printing as well, for example when you 'wake up' up the computer from hibernation mode.  The problem shows up on your screen due to a flaw in the Windows 7 operating system design.  You need to resolve issues in Windows 7 regarding network printers to be able to do away with the error message.  This tutorial will enable you to fix the error quickly.
What Causes This Error?
This message indicates the error:
"Print driver host for 32bit applications has stopped working"
The printer driver host error is mainly caused by Windows not being able to properly connect on the network to your printer.  It is clearly a result of driver problems with Windows.  Apparently, Microsoft failed to include a full list of printer drivers on the OEM Installation Disc, causing printers to be installed improperly.  The errors can also be caused by problems inside the registry.  You need to repair whatever issues are responsible to be able to fix the problem and use the network printer – which can be performed using the steps below:
How To Fix The Error
Step 1 –

Remove Current Printer
The first thing that you need to do is uninstall all printers currently installed on your PC.  To be able to accomplish this, follow these steps:
Click Start> Devices and Printers and then locate your printer.
Right-click on the device and then select "Remove Device" from the choices that appear.
Step 2 –

Re-Install Your Printer With Different Port
After successfully removing the device, you need to re-install the printer as a locally attached network printer.  Here's how you can do this:
Inside the Devices and Printers section, click the "Add Printer" button.
In the window that appears, select "Add a local printer."
Next, select the option "Create a new port" and choose "Standard TCP/IP port" in the "Type of port" dropdown menu.
In the "Hostname or IP address" box, type in the network printer's hostname or IP address.  The "Port name" box will automatically be filled with the same information.
Ensure that the "Query the printer and automatically select the driver to use" box is unchecked.
Click the "Windows Update" button to retrieve an updated list of existing printer drivers from Microsoft.
Finally, locate your printer in the list and proceed with the printer installation.
Step 3 –

Clean Out The Registry
The registry is also responsible for a number printer driver host errors in your computer as well as other severe problems that cause your computer to slow down.  The registry is where all file and program settings are stored which Windows needs to access to load them as they were last configured. However, the registry is highly sensitive and often suffers from corruption, or its settings simply go missing from time to time.
You need to make sure your registry is in good order to be able to repair problems in your print driver host. Although the task can be done manually, it is a thankless one that will take an enormous amount of time to do. Therefore, using a 'registry cleaner' that can perform system scans and effectively repair the errors is by far the best option.