"The Windows Installer service could not be accessed" Error Fix Tutorial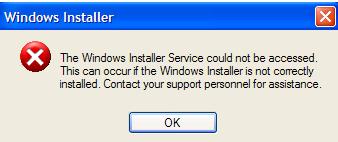 The Windows Installer Service is a piece of software inside Windows which allows your PC to correctly process the settings & options required to install programs onto your system. Although this is a critical part of your computer, it's continually leading a large number of problems to form, primarily because this program is unable to process the settings that it needs to operate. Fortunately, you can fix the issues that it may have by using the steps outlined on this page.
What Causes This Error?
This problem may occur if the Windows Installer files are damaged or missing.
How To Fix The Error
Step 1 –

Make Sure The Windows Installer Service Is Running
The first step to take is to ensure that the Windows Installer service is actually running on your PC. To do this, you should follow the steps here:
Go to Start > Run
Type "services.msc" in the text field
Double click on the "Windows Installer" service
There will be a value in the "Startup Type:" field. Make certain it is set to "Manual" instead of "Disabled"
If it was disabled, then this is probably the source of your problem.
Step 2 –

Re-Register Windows Installer
The next thing to do is to re-register the Windows Installer Service. This will ensure that Windows can correctly process the files & settings that it needs to run, and will stop the majority of errors with this piece of software on your PC:
Go to Start > Run
Type "msiexec /unreg" in the text field. This will unregister your msi files
Go to Start > Run
Type "msiexec /regserver" in the text field. This will reregister the msi files
Step 3 –

Clean Out The Registry Of Windows
The registry is one of the biggest causes of problems for your computer, due to the way in which your PC will not be able to process the files or settings inside it. The registry is basically a database inside your PC which stores a large number of important information & settings for Windows, allowing your computer to process the likes of your desktop wallpaper, emails and even your passwords in the most effective way. Unfortunately, the registry is continually causing a large number of problems for your system, due to the database becoming corrupted & damaged.
We highly recommend using a program called "RegAce System Suite" to fix any of the problems that the registry will have. This is the best tool to fix registry errors, allowing your PC to run much smoother as a result.