Skype Error 1603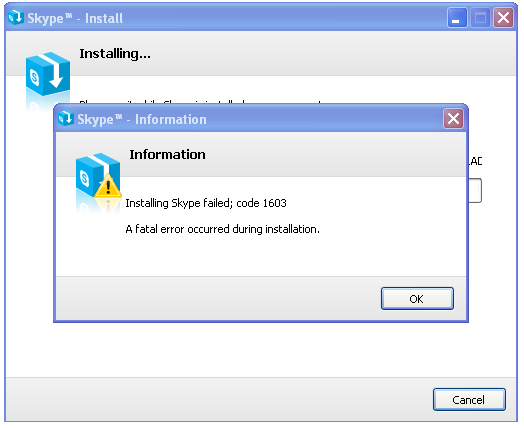 When you are attempting to update Skype, you may receive error 1603. This error is to do with uninstallation of Skype when it is not able to find the PluginManager.msi file on your system. Skype is a recent Microsoft purchase and is basically an instant messaging service, which also allows calls to landlines and mobiles across the globe for a fraction of the price of a normal phone call.
What Causes Skype Error 1603?
There are 3 main protagonists that can cause error 1603 to arise when updating Skype:
A previous installation did not allow PluginManager.msi to be removed from your system
Windows needs updating
Your registry contains dead links
To fix these issues, follow the instructions below.
How To Fix Skype Error 1603
Step 1 –

Remove Extras Manager using MSI Clean Up Utility from Microsoft
Using the MSI clean up utility allows you to easily remove the file causing the issue. To do this:
Download and install Windows Installer CleanUp Utility
Run the utility and remove "Skype Plugin Manager"
Delete Skype\Plugin Manager folder manually. It is usually under folder c:\Program Files\Skype
Install Skype
Step 2 –

Update Windows
It is always imperative that you download the latest updates available for Windows. To do this, you can:
Click Start
All Programs
Windows Update
Follow the wizard and install all updates
Restart your computer
Step 3 –

Clean Out The Registry
One of the big causes of Skype errors is through the "registry" database of your computer. This is a large database which stores vital information & settings for your PC, and is used continually to help Windows to read the files, settings & options that it needs to run. Although the registry is one of the most important parts of every Windows system, it's continually causing a large number of problems thanks to the way it will often become corrupted and unreadable. This is the cause behind many Skype errors, and needs to be resolved by using a reliable "registry cleaner" application.
This step is best completed by downloading RegAce System Suite, and letting it clean out any of the problems that your system may have inside.