Steps to Remove Antivirus 7 From Your PC – Antivirus 7 Removal Guide
Antivirus 7 is one of the "rogue antivirus" viruses that infect many computers around the World. Developed specifically for Windows 7, this virus is continually trying to infect as many PC's as possible in order to get "upgraded". Every time Antivirus 7 infects a computer, it falsely reports 100's of  fake virus threats on your machine… However do not fall into that trap, because this application has nothing to do with PC security – it has been designed for profit by the hackers who produced it and needs to be removed from your machine as quickly as possible.
Where Does Antivirus 7 come from?
Antivirus 7 is usually installed and spread through the use of trojans and online scanners that deliberately hide in video codecs that are supposedly required for watching videos online. Once the malware has been installed it then starts to use malicious techniques to try and convince the user to purchase the full version, obviously this is a scam and should be avoided. Antivirus 7 classically loads deceptive pop up ads telling the user about cyber threats they apparantly have on their machine, users will also notice that they will be redirected to websites actively promoting malware too. Redirections are caused by browser hijacking which is also used in Antivirus 7.
How To Remove Antivirus 7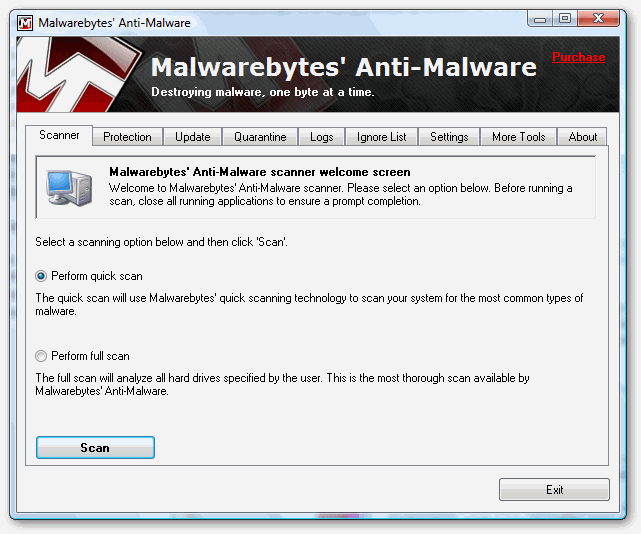 MalwareBytes is a free spyware & malware removal tool which you can download here. You need to install it on your PC and then let it scan your system. If you don't have access to the Internet (because Internet Security blocked it) then you should download this tool on another PC and then transfer the installation file via CD or USB pen.
Using this tool is very simple. It shows you what you need to delete from your system and by doing this the Antivirus 7 remover will help get rid of Antivirus 7 software that is on your system.
Step 2 – Clean The Registry
Although Antivirus 7 Remover is very effective at removing the actual infection from your PC, it does not finish the job properly… and ends up leaving a series of settings on your PC. These are kept in the 'registry' database and can actually allow the infection back onto your PC. In order to fully protect yourself, it is recommended that you download a registry cleaner and then use it to remove any of the infected 'Antivirus 7' registry keys that can still cause problems. This tool is automated and is very easy to use.
What This Removal Process Does:
Kills Processes
You should open up the "Task Manager" by clicking CTRL + ALT + DEL and then click on the "Processes" tab. This will then display a list of running processes, where you should then be able to find the listed files above. Click on each one and then click on the "End Process" button to stop the program from running. You can see an example of how that works below: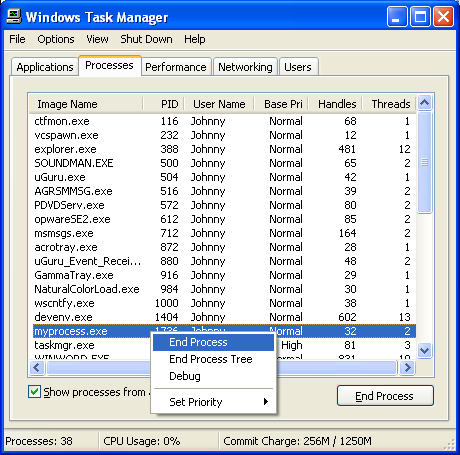 Stop The Antivirus 7 Processes
Removes Directories
C:\Program FilesAV7
C:\Documents and Settings\All UsersStart MenuAV7\
These directories store the files that make Antivirus 7 work. This means that you just need to go into "My Computer", find the above directories, select them with your mouse and press SHIFT + DELETE. This will permanently remove them from your PC, preventing the program from loading up ever again.
Unregisters DLLs
Deletes Files
antivirus7.exe
Antivirus7.lnk
Uninstall.lnk tmp.edb
UpdateExplorer.dll
These files are all used by Antivirus 7 to help it run and infect your PC. In order to fully remove the virus from your system for good, you need to be able to remove the various files listed above. Using the spyware removal tool listed above should be able to do this quickly and easily.
Recomended

– Clean The Registry (Highly Recommended)

In order to prevent Antivirus 7 coming back on your PC, you need to remove all the registry entries it has entered. This important, because many people leave these intact and end up having the problem come back again. Registry entries store the settings and options for the program, and by using a registry cleaner, you can remove them all and get your computer fit and healthy again. This is highly recommended, otherwise your PC could get infected again!