Delete Duplicate Files with Easy Duplicate Finder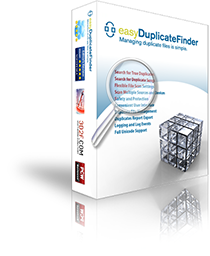 Everybody uses computers differently, but there are a lot of things that all computer users do. We create files, download songs and videos from the Internet, upload photos, send emails and so on. That's why it's not surprising that a lot of computer users get the "low disk space" error sooner or later. When this happens, the first thing you should do is delete duplicate files. And Easy Duplicate Finder is the program that will make it quick and simple.
Duplicate files accumulate over time. Sometimes you upload your photos twice, download duplicate copies of songs and videos, save multiple edit versions of a document, receive duplicate emails and so on. As a result you end up with hundreds of useless duplicates. To cut a long story short, you may have hundreds of duplicate files occupying gigabytes of disk space.
Easy Duplicate Finder scans your computer for duplicate files and lets you delete them automatically. The program has a very intuitive interface and is safe to use because it can match the files by content. In addition to that, the program always lets you decide which files to delete and which to keep.
Let's have a look at Easy Duplicate Finder Features:
• Search for True Duplicates (files with same contents) – the program can detect true duplicates using either fast file check, byte-by-byte comparison, CRC32, file size or ultra fast filename only scan options.
• Search for Duplicate Songs (ID3 Tag Comparison) – a special comparison algorithm allows to easily detect duplicate songs.
• Duplicate Photo Finder – find and delete duplicate photos.
• Duplicate Email Finder – find and delete duplicate Outlook and Mac Mail emails and duplicate Outlook contacts.
• Preview scan results – you can preview scan results before deciding which file to delete
• iTunes library sync – sync your iTunes library to avoid errors
• Flexible File Scan Settings – the user is able to search files by predefined or custom masks.
• Scan Multiple Sources and Devices – Easy Duplicate Finder supports all kinds of removable media, such as MP3 players, USB drives, digital cameras and more.
• Safety and Protection – the program protects critical system files and folders from accidental deletion.
• Convenient User Interface – Easy Duplicate Finder has an easy to use drag and drop interface.
• Reporting Functionality – the program generates a complete HTML report. There is also an option to create TXT and CSV (Excel) reports.
• Full Unicode Support – Easy Duplicate Finder supports files in Chinese, Japanese, Arabic, Russian, etc.
• Windows 8 and Mac OS X Mountain Lion support
Easy Duplicate Finder comes in two versions – a free trial and a paid full version. The trial mode is limited to resolving 10 duplicate files. Once the limit is reached, the program will only let you scan for duplicate files, but you'll need to purchase a license to delete them. The full one-year license of Easy Duplicate Finder costs $39.95. Easy Duplicate Finder can be used on both Windows and Mac computers.