How to Automatically Back up Folders in Windows 10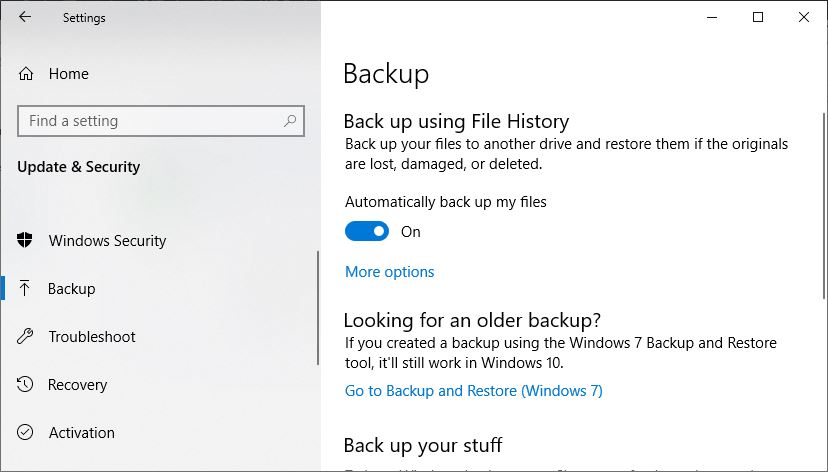 Do you back up your files and folders regularly? If not, you should! Making regular backups lets you protect your important files and folders from accidental deletion when your PC crashes or you hit the Delete button by mistake. While the best way to back up files is to use a cloud backup service like GigaToolz, you can use Windows 10 built-in backup features. Here's how.
How to Schedule Backups on Windows 10
Windows 10 has a feature called "File History", which you can use to back up specific folders according to a schedule. By default, the "File History" feature backs up Desktop, Documents, Pictures, Music, Downloads, OneDrive, and other folders in your user account on the C drive. You can also add folders located on another drive, though.
What's important to know is that you need an external hard drive to keep your backups (otherwise the whole backup process is pointless). So, make sure you connect an external drive before you create a backup. When the drive is connected, follow these steps:
Go to Control Panel – All Control Panel items – File History and make sure File History is turned on
Press the Windows key + I to open the Settings app and select Update & Security
Under "Back up using File History", click on "Add a drive" and add your external drive
The option called "Automatically back up files" will be switched on
Click on "More options" and select "Back up now"
All the folders in your user profile will be backed up automatically and you can also add other specific folders to the backup
In addition to adding folders to the backup, you can remove the folders you don't want to back up, change the backup schedule, and tell Windows for how long you want to keep your backups ("Forever" is selected by default).
As you can see, backing up your files and folders with the "File History" feature is very easy!