How To Deal With A PC That Is Slow To Shut Down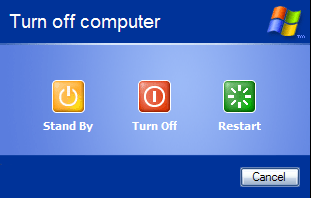 If your computer is slow to shut down, then there could be a number of faults causing the issue. The trick to fixing this problem is to use a method which corrects all the potential faults and fixes them, allowing your PC to shut down quickly. Here's how…
What Causes A Computer To Shut Down Slow?
When you shut down a computer, it has to go through a certain set of processes which "tie all the losse ends" of the system. It closes all the programs, stops any running services and saves any data that Windows had open. This process can take anywhere from 2 seconds to 20 minutes depending on how much the computer has to deal with when it shuts down.
The reason why any Windows PC will take a long time to shut down it all in how much it has to deal with, and how fast it can deal with it. The slower your computer shuts down, the more process & programs it has to stop, and the more settings it needs to save… and this all takes time. Fortunately, there's a way to speed this process up by following the Windows shut down method below:
What To Do It Your Computer Shuts Down Slow
Step 1

– Close All Unnecessary Programs
Before shutting down your system, you should close down all the programs that it has open. When Windows shuts down, the first thing it does is to close the many programs that you have open on your PC, and it's often the case that one single program can make your PC take much longer than expected to turn off.
To do this, you should press CTRL + ALT + DEL and then on the "Processes" tab. This will show you a list of all the programs that are running and will allow you to stop the ones that are on there. This should allow Windows to bypass many of the programs that could slow it down when trying to turn it off.
Step 2

– Stop Services

The 'services' on Windows are a series of processes which run in the background of your PC to help it perform many different tasks. You should stop the services that are the biggest drain on your PC, such as 'remote assistance', 'fast user switching' and others. To do this, yo need to click on START > RUN and then type services.msc. On the screen that appears, click on the "Terminal Services" button and then for all the services inside it, you should set the "Startup Type" to "Disabled".
Step 3

– Clean Out Viruses
Many computers have hidden viruses and spyware infections which slow them down. This is a major problem because these hidden infections actually run on your PC and then prevent it from shutting down as they aer anomalies which your system is not designed to deal with. It's advised that you use some antivirus software to clean out any viruses that might be on your PC. However, you should also make sure that the antivirus software is not running all the time on your computer as that could also prolong the shutdown time of your system.
Step 4

– Use A Registry Cleaner Tool To Remove System Errors

One of the biggest causes of computers shutting down slowly is to have corrupt settings and errors inside the 'registry' database. The registry is where Windows keeps ALL of the settings and options for your computer, allowing your PC to 'remember' many different settings in the same location. When you shut down your PC, it needs to save all these settings and in the scramble to do this – it often saves many of them in the wrong way. This causes them to become corrupted and damaged, making your PC very slow and unresponsive, which is why it is slow to shut down.
To fix this problem, you can use a 'registry cleaner' to scan through the registry database and other important Windows files to remove the damaged ones that are causing it to shut down slowly. To do this, you need to download a registry cleaner off the Internet, install it and let it scan your PC. It will then remove any of the damaged files that are inside your system, allowing it to shut down quicker. You can see our top recommended cleaner below: