How To Fix Error 1722 On Your Windows PC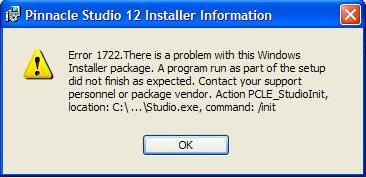 Error code 1722 appears on Windows 2003, 2000 and XP. It occurs when an application running on your PC attempts to access the NetUserGetLocalGroup function. The NetUserGetLocalGroup function is basically part of a "Group Policy" that is present on Windows NT based operating systems. It manages the working environment of the user accounts and the computer accounts. When the PC attempts to use the function, it may be that it is used to query the active directory of another domain. The user name for this is then provided in Domain_Name/User_Name format. All these situations culminate in a error 1722 appearing on your system. To fix this, follow the steps below.
What Causes Error 1722?
The error may show itself as
A system error has occurred: 1722
This error is a result of the NetBIOS not being enabled over TCP/IP. This means that the important NetBIOS feature that is required for the component to run is not available and an error occurs. In this particular case, the Domain_name part of the NetUserGetLogin function should be a Fully Qualified Domain Name (FQDN). This means that if the FQDN of the domain you are trying to access isTesting.com, then for your query to succeed, you must use Testing.com/User_Name. Fixing this error is simple by enabling the NetBIOS over the TCP/IP, cleaning out viruses from your PC or fixing a broken registry. Follow this first step to fix the error.
How To Fix Error 1722
Step 1 –

Enable NetBIOS over TCP/IP
Follow these steps to enable the important NetBIOS feature over TCP/IP.
Click Start > Control Panel
Click Network Connections and Internet Connections
Click Network Connections
Click on the Local Area Connection that you want to alter
Double click on the properties button
Select Internet Protocol (TCP/IP) and then click the properties button
Click Advanced
On the WINS tab, select the Enable NetBIOS over TCP/IP
Click OK, then click OK again. Click close to exit dialog box.
This method allows the NetBIOS to act over the network that you altered the settings for. This should make the system work and without the error 1722. If this does not work, carry on to the next step.
Step 2 –

Scan For Viruses
– Download this antivirus program
Viruses can also cause the Runtime Error 1722 on your PC by corrupting / blocking various functions that your system requires to run. This is a huge issue which continually causes your computer to run slower and with a lot of different errors. To ensure that viruses are not causing any problems on your PC, you should use an antivirus program such as "XoftSpy" to remove any infections from your system.
Step 3 –

Clean The Registry
– Download this registry cleaner
The registry is one of the most important parts of the Windows system, as it stores all the settings that your PC needs to run. Unfortunately, the registry is also one of the biggest causes of problems for your system, and is often what causes the 1722 error. The problem is that many registry settings become corrupt & damaged over time, leading your PC to become unable to read the files it requires when it's running. This is a huge problem which makes your system run extremely slowly and unreliably. To fix it, you should use a registry cleaner, of which our recommended tool can be downloaded below: