How to Fix Sudden Attack Errors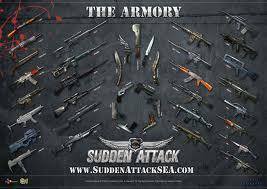 Sudden Attack is one of the most popular and successful free MMOGs of all times. It has millions of followers around the world and keeps gaining in popularity. Most of the time Sudden Attack gameplay is pretty smooth. But sometimes you can experience errors, such as Sudden Attack startup error, sudden shutdown error, and freeze-up errors. Sometimes the only way to fix Sudden Attack is to upgrade your hardware. But some of the errors are very easy to repair. All you need is a bit of knowledge and the right software. Here are some tips how you can fix Sudden Attack errors.
1. Reinstall Sudden Attack client

The first thing you should do when you encounter a Sudden Attack errors is to uninstall and reinstall the game. This fix is especially handy if you are getting a Sudden Attack error on game startup. This is because sometimes when you install the game, some settings and options (including DLL files) get installed incorrectly, which leads to errors and prevent you from launching the game. Uninstalling and reinstalling the game will replace the incorrect settings and make the program run as good as new.
2. Delete Sudden Attack entries from the registry
If uninstalling and reinstalling the game client doesn't help, clean the registry before reinstalling the program to fix errors, delete empty registry keys and fix corrupted entries to prevent conflicts. Make sure your registry cleaner deletes everything related to Sudden Attack, so that you can run a fresh install.
3. Update your graphics card driver
Another reason for Sudden Attack error messages is outdated graphics card driver. If your video card driver is outdated, it can create conflicts and prevent the game from running correctly. Click here to update your driver in a quick and easy way.
4. Research Sudden Attack error codes
When Sudden Attack errors occur, you usually get a message containing an error code. These error codes are just numbers unless you know what they mean. Here are the most common Sudden Attack error codes explained:
Error code 50 – player's Sudden Attack Login ID is being logged into the game
Error code 61 (1) – player ID not found
Error code 61 (2) – wrong game account password
Error code 61 (3) – player ID has been banned
Error code 61 (4) – player account has been inactive
Error code 61 (5) – user has been banned
Error code 61 (6) – wrong password has been entered more than 5 times; user has been banned from the game
Error code 61 (99) – other login problems have occurred
Error code 10000 – server connection errors related to anti-virus software and firewalls