How To Fix The Windows 1305 Error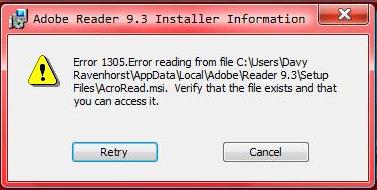 The Windows 1305 Error is an error which is most noticeable when you try to install software onto your computer, but you are more likely to see the error when you try to install the Microsoft Office application. The 1305 error is largely due to the fact that it is caused by software issues, hardware problems as well other windows errors. If for whatever reason you're seeing this error then it generally means that you have a problem with your computer. Below is a tutorial on how to fix the error:
What Causes The 1305 Error
Error 1305. Error Reading from File: File_name and Location. Verify that the file exists and that you can access it.
Error 1305: Setup cannot read file path\filename.

Check your network connection or, if you are installing from CD-ROM, be sure that the product name CD-ROM is in the drive. Click Retry to continue or Cancel to stop the installation.
The errors above are caused by a number of different problems, and one of these is hardware related and making sure that you CD/DVD drive is working properly. However, it can also be caused by software issues, such as drivers for your CD/DVD drive not providing the necessary performance required.
How To Fix The 1305 Error
Step 1 –

Check Whether Your CD/Installation Medium Is Working
It is paramount that you check whether you CD drive is working properly, and you can test this by:
If the installation is showing error 1305, then eject disc
Insert another unrelated disc into the drive for another program
Attempt to install the program
If the program does not install, or error 1305 appears again, then the CD drive could be at fault
However this can be caused by loose cabling if you have a tower PC or faulty lasers, to a broken tray. Either way, it is best to return the drive to the manufacturer, if possible, or buy a new one.
Step 2 –

Check Your Drivers Are Working Properly
Buying a CD drive can be quite expensive, so to determine whether this is what is causing the issue, you should also check your drivers. The drivers are what link the hardware (in this case the CD drive) to the software (the operating system). A faulty or corrupt driver can cause this communication to break down and therefore cannot read files. The best way to find out whether the driver is corrupt is to:
For XP Machines
Go to Start > Control Panel > Performance & Maintenance > System
In "System Properties", click "Hardware"
Click Device Manager
Look for the CD Drive in the list
If the CD Drive has a yellow icon next to it, this means that the driver is faulty and needs replacing
For Vista/Windows 7 Machines
Click Start > Control Panel > Hardware And Sound > Device Manager (Under Devices & Printers)
Look for the CD Drive in the list
If the CD Drive has a yellow icon next to it, this means that the driver is faulty and needs replacing
To replace the driver, you should look at the manufacturers website to find any updates. You may want to attempt to download the  same driver again if no update can be found, as it may be that the installation of this driver was not completed successfully.
Step 3 –

Clean Out Your Registry
A big cause of the 1305 error is that the "registry" of your PC will be corrupted, preventing access to the files which need to be installed onto your PC. The registry is a large database that Windows computers use to store all the settings & options that they require to run, and is used by all your software programs to help them recall a number of different options & settings for them to run. Although the registry is highly important, it's continually causing a lot of errors on your PC thanks to the settings either being damaged or corrupted. To fix this problem, you should repair any damaged registry settings by scanning through your PC with a registry cleaner program.